Galapagos Islands Journey with Berg Adventures International – Luxury Boats
Catamaran Athala II
The new luxury Catamaran Athala II was specifically designed and built to cruise the Galapagos Islands in style. The elegant design provides more comfort, superior speed, excellent stability and meets all the latest safety standards.
The Athala II is unrivalled in offering the generous comfortable accommodation and amenities of a larger boat while still preserving the relaxed exclusivity of a smaller vessel. You are sure to find the layout, furnishings, food and crew to be at an excellent standard.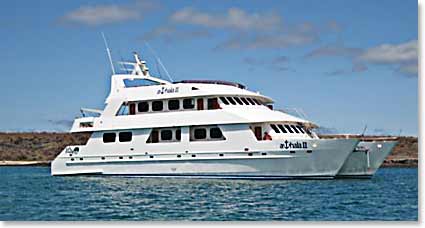 All cabins on board are deluxe, with well-appointed private bathroom, water, air conditioning, wall to wall carpeting. All have ocean views with large portrait windows (not portholes). All cabins are a minimum 175 square feet and the main deck rooms have the additional luxury of a private balcony.
The main deck also boasts the dining area and a separate comfortable lounge area complete with plasma TVs, lap tops, DVD player, stereo and library.
The upper deck has a well-stocked bar, Jacuzzi and a beautiful open teak deck area for relaxation, alfresco dining and barbeques.
The huge sundeck is great for whale and dolphin watching or to simply relax and soak up the sun between island excursions. In the evenings there is no better place for star gazing.
You have a crew of 10 + 1 naturalist guide. The crew is friendly, full time, experienced and highly professional. Your guide is guaranteed to be bilingual (minimum fluent English and Spanish) and of the highest standard.
Fine On-Board Dining
We always receive great reviews about the food on board. There is a varied menu onboard, including international and local cuisines, designed to accommodate a variety of dietary needs including vegetarians. There is always a choice and at least one vegetarian option. If you have any special dietary needs please let us know. We will do our best to accommodate your needs.
Usually breakfast and lunch are buffet style and dinner served a la carte. Light snacks, tea and coffee are served between meals. Meals are served in the dining area with the exception of some lunch buffets and barbeques that are served al fresco on the upper deck.
Sample Menu
BREAKFAST BUFFET
Fruit salad
Yoghurt
Muesli or cereals
Freshly baked breads
Selection of jams & marmalade
Selection of cheeses
Eggs cooked to your liking
Selection of juices
Selection of teas
Freshly brewed coffee
LUNCH
STARTER
Garden salad with grapefruit segments and mango vinagrette
MAIN COURSE
Choice of:
Prawns with Coconut Sauce served in Coconut Shell
Turkey Breast in Mushroom Sauce or Spring Rolls
Served with plantain bala and fresh salad
DESSERT
Crushed frozen naranjilla on a forest fruit base
Lemon tuille topped with grapes, melon and prickly pear
DINNER
Barbecue on the Upper Deck
Seasonal Seafood, Fillet Steak, Chicken, Chorizo
Served with aubergine, carrots, zuquini, corn, sautéed grains, cheese sauce and salad
DESSERT
Fruit tartlets
Please note that this is only a sample menu. Our menu is subject to change at short notice due to supply issues or other operational matters.
Water
Water on board is perfectly safe to drink. We use reverse osmosis to produce fresh water but to be 100% safe we recommend that our guests only drink the bottled water which is complimentary
Bar
Water and sodas are complimentary. There is a fully stocked bar on board offering a range of fine wines, cocktails, spirits and other alcoholic beverages. There are crew members to serve you your drinks but feel free to serve yourself if you wish.
Your Crew
Your crew is dedicated to providing you a friendly, efficient and professional service that will make your visit to Galapagos a very enjoyable, pleasant and memorable experience.
Your guide, captain and crew are highly experienced and trained to satisfy your requirements to make your stay a first class occasion.
All crew members are residents of the Galapagos Islands and all are fully qualified in all the requisite emergency, first aid and survival procedures.
Deck Plans
Boat Specifications
Year of construction: 2007
Type: luxury motor catamaran
Length: 98 feet / 30 mts
Beam: 37 feet / 11 mts
Draft: 4.6 feet / 1.40 mts
Gross Tonnage: 317 tons
Capacity: 16 passengers
Accommodation: 4 upper deck cabins (min. 175 sq. feet), 4 main deck cabins with private balcony
Main engines: 2 John Deere 6081 AFM 300 HP
Max speed: 12 knots
Electricity: 110 volts AC / 60 Hz
Water maker: 2000 gallons / day
Exterior: mature teakwood flooring
Crew: 10 + 1 naturalist bilingual guide
Safety & Navigation: All equipment meets / exceeds the international SOLAS standard: 2x 20-man life craft, 2 GPS, sonar, 2 naval radars, Navnex, fire detection and prevention systems.