Galapagos Islands Journey with Berg Adventures International – Luxury Boats
On Board the Anahi (formerly known as Athala)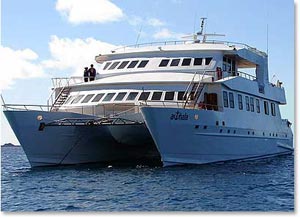 Extremely safe and friendly to the environment, the ninety-foot luxury-class catamaran M/C ANAHI is the perfect live-aboard base of operations for BAI groups exploring the Galapagos Archipelago. Launched in 2006, the Anahi boasts state-of-the-art navigation, communications, and safety equipment. The shallow draft of its twin hulls enhance the ship's stability in open water and allow it access to bays and beaches that can't be reached by other vessels. Best of all, the Anahi 's experienced crew members provide friendly, professional service that is beyond compare.
Cabins
The Anahi can accommodate up to sixteen passengers in six standard cabins on the main deck (each is 150 square feet) and two upper-deck suites (193 square feet). All cabins and suites feature ocean view picture windows, air-conditioning, private facilities with hot water, and 110/220-volt electrical outlets.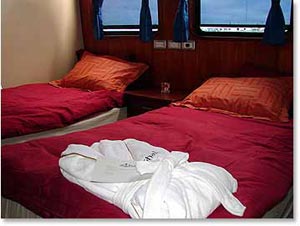 Shared Areas and On-Board Amenities
The Anahi's spacious observation deck and sun deck offer 360-degree visibility of the natural wonders of the Galapagos. Passengers will also enjoy the comfortable dining room, bar and lounge, and Jacuzzi. The ship carries plenty of snorkel gear, wetsuits and two ten-person Zodiac rafts for those wishing to venture closer to Galapagos wildlife. For on-board diversions, the Anahi boasts a DVD player with a flat panel screen, a state-of-the-art sound system and a small library.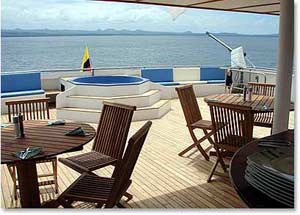 Crew
All of the crew have at least several years of experience with ocean-going service and share the Berg Adventures vision of offering the finest experience to our clients. With nine trained crew members on board, the ratio of crew to passengers is exceptionally high.
Fine On-Board Dining
Dining on the Anahi is a culinary feast. The ship's chef prepares delicious international and local dishes using fresh ingredients of the highest quality. Meals include choices of meat, poultry, and seafood, and options to accommodate vegetarians and individuals with specific dietary choices and needs. Fresh fruits and salads are also available. A wide selection of beverages including some of the world's finest wines can further enhance your meals.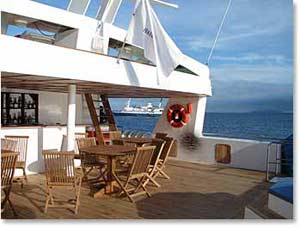 Certified Naturalists
You will have one Naturalist level III guide on the Anahi who has received extensive training and certification by the Galapagos National Park. With years of experience and a personal passion for the wildlife, biology, geology, and natural history of the Galapagos, he/she will enrich our explorations both while we are on the ship and as we go ashore. Every guide is committed to the conservation of the Islands and will help us observe the park's guidelines while explaining the importance of protecting the pristine environment of the Galapagos Archipelago.
Designed for you to make the most of your travels in the Galapagos, the M/C Anahi is the ideal ship for a Berg Adventures International journey. Join us soon for the trip of a lifetime and a voyage you will never forget!
Deck Plans
Boat Specifications
Type: Motor Catamaran
Category: Luxury Class
Year: 2006
Length : 90.50 ft / 27.60 m
Beam: 36.08 ft / 11 m
Capacity: 18 passengers (Authorization navigation : 16 passengers)
Main Engines: 2 x John Deere IMO 300 HP each
Electric System: 2 x 50 KW generators (IMO) (110v and 220v. AC)
Speed : 10 knots
Water Capacity: 3000 gal. plus water maker with capacity of 1000 gal/day
Diesel Capacity : 2000 gallons
Material Construction : Glass fiber
Interiors : wooden flooring
Exterior: Teakwood flooring
Crew: 9 + 1 naturalist bilingual guide
Navigation & Safety Equipment: One 48 miles Radar; Echosounder; GPS; One VHF radio; EPIRB; Magnetic compass; 2 Rigid life rafts for 15 passengers each; 30 SOLAS life jackets; fire & smoke detectors; complete fire system; 2 Zodiac rafts for 10 persons each. Safety equipment complies with international Coast Guard regulations.
Accommodation: 16 passengers in 6 twin bed cabins on main deck and 2 suites on the upper deck.