Explore Bhutan with Berg Adventures – Trip Description
Bhutan – A Kingdom of Discovery
You may not see flying tigers, thunder dragons or even a kingdom in the clouds but your imagination will be full of these exotic figures when you travel to Bhutan.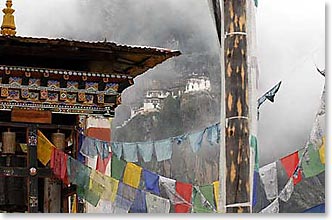 Bhutan is a land of myths and legends that are alive today in preserved culture and maintained traditions.  We visit the unspoiled landscapes and sparsely populated areas of Bhutan in three customized programs; "Bhutan Chomolhari Trek – The Last Shangri La", "Bhutan Preserved in Time – Bhumtang Trekking Tour" and "The Dragon Journey". 
Magical, colorful, remote and unique, trekking in the kingdom of Bhutan is perhaps the ultimate Himalayan adventure.  On Berg Adventures Bhutan Treks you will experience the great variety of Bhutanese landscapes. It is without doubt one of the most beautiful and unspoiled trekking areas in the entire Himalayas. Whether you are trekking through the hills and lush valleys or touring the villages, towns and monasteries, you will be one of the fortunate few to visit Bhutan, the best kept secret of the Himalayas.
If you wish to extend your expedition we will be happy to add to your itinerary a visit to Kathmandu or you may join us for a Tour of Tibet. In less than 30 days you can have a full Himalayan experience.
Festivals
Religious festivals are important throughout the Tibetan Buddhist world. In Bhutan, there are additional Tsechu (10th day) festivals commemorating the deeds of Padmasambhava.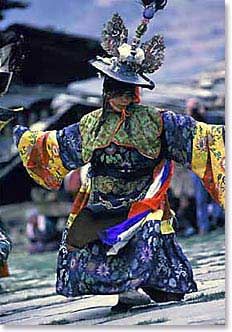 Locally referred to as "Guru Rimpoche," this eighth century master introduced the Nyingma school of Buddhism to Tibet and Bhutan. All of Guru Rimpoche's great deeds are believed to have taken place on the 10th day of the month, which is the meaning of the work Tsechu. Most Tsechu festivals last three to five days, one of which falls on the 10th day of the lunar calendar. All the districts, dzongs, and a large number of villages hold annual Tsechus, which attract villagers from far and wide.
Qualifications
Our Bhutan treks require excellent cardio-vascular conditioning and muscles that are used to hiking will make your trip much more enjoyable. Begin training today if you want to get the most from this trip and bring your sense of adventure along! For the Dragon Journey no prior conditioning is necessary.
Three Great Trips To Choose From
The Dragon Journey is an excellent opportunity for you to extend your South Asia travels.  Your time may be limited but that won't prevent you from experiencing Bhutan completely on this wonderful tour. 
This Trek is the perfect solution for anyone who wants to focus on Bhutanese people, culture, history and combine trekking with touring by private vehicle.  Our trekking will begin in the splendid Bumthang valley.  This wide lush valley is known worldwide for its exquisite handicraft industry.  The opportunity for contact with Bhutanese rural life is superb. Spectacular mountain scenery, remote and dramatic monasteries and pristine Himalayan culture are all included in this beautiful trip.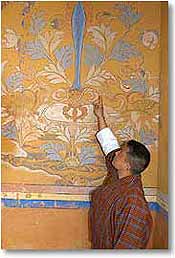 Our trek will take you to Chomolhari Base Camp. Chomolhari 23,994 ft (7313 m) was a famous landmark on the early trips to Everest. George Leigh Mallory described it as "astounding and magnificent" but he remained "cold and rather horrified" by the mountain.   It was first climbed in 1937 by Spencer Chapman and Pasang Dawa. The expedition almost had a terrible ending when they fell 300 feet on one occasion and on another in a crevasse.
It was climbed again in 1970 by a joint Indian-Bhutanese Team when 4 climbers disappeared near the summit. The mountain has been closed ever since.  The trek into this remote sanctuary however, remains one the most compelling and rewarding Himalayan journeys one can undertake.
The trek begins at Drugyal Dzong, 1 hour drive from Paro passing through beautiful villages, scattered hamlets, farmland to our highest point, Nyele Pass at 16,175 ft (4930 m). We then start our hike down towards Thimphu, the capital of Bhutan.
You will encounter different vegetation, from rich forested valleys to high alpine pastureland where Yak herders graze their animals. Trout fishing in sky blue lakes with magnificent views of majestic peaks is an activity which can be done on a rest day. You will also have excellent chances of encountering rare species like the blue sheep & snow leopard.
We will take extra time in order to allow our bodies to get acclimatized to the altitude and enjoy the beauty of the mountain scenery.