Climb Ama Dablam with Berg Adventures – Trip Description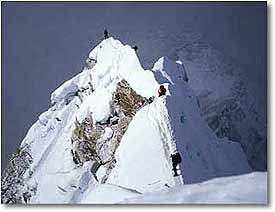 For fifty years the best mountaineers from around the world have trod under this gem as they approached Everest, Lhotse and the other great peaks of the Khumbu Region of Nepal. Its graceful lines of rock, ice, and steep fluted snow has pulled at each of them. Four of the six highest mountains in the world ring this enchanted valley, but it is Ama Dablam that defines the core of an alpinist's dreams: The image of this striking peak is universally known to lovers of mountains.
Our route on Ama Dablam will be the Southwest Ridge, as it was climbed by the first ascent team led by Barry Bishop in 1961. This classic route is technically challenging. Berg Adventures guides and Sherpas will lead the route and fix lines where they are useful. We will approach Base Camp and the climb slowly, enjoying the Khumbu region and allowing our bodies to acclimatize. Our Ama Dablam expeditions always ascend one of the region's 6000 " Trekking Peaks " in preparation for the Ama Dablam climb. When we move through Camps I, II and III on our route we will be climbing through some of the most spectacular, varied and aesthetic terrain a mountaineer could hope for. This demanding route requires commitment and skill, and offers the thrills of airy exposure.
Our Approach
Our strategy is to summit a nearby major peak in preparation – both in terms of climbing and acclimatization – before attempting Ama Dablam. In past years, our teams have chosen Lobuche (6118 m/ 20,075ft) as our first climb. Our guides will assess each expedition team and determine an appropriate peak as a "warm-up" climb.
Qualifications
Competent alpine ice-climbing technique on slopes to 55 degrees and experience climbing on mixed terrain with heavy packs. Good basic rock climbing skills. Ama Dablam is a classic expedition-style climb that requires focus, flexibility and determination over a period of more than 4 weeks.
Our Guides
Berg Adventures Guides have years of experience guiding in the Himalayas and around the world.  They will show you a love of the Sherpa people and the Everest region, they will motivate you, and they will offer impeccable expedition organization and sound, experienced judgement throughout your climb.
Internet Dispatches
Your adventure on Ama Dablam will be cybercast to the Internet via satellite phone. Daily dispatches will be posted on the Web on BergAdventures.com. These dispatches will not be a forum for personal messages but will be a great way for your group to share stories and photographs of your adventures while "on the scene". In the past, our cybercasts have been used by family, friends and supporters to track the progress of our groups, by classrooms to learn about the wild places we visit, and by local newspapers to report stories of interest. Check our Cybercast Archives for details from last year's expedition.
View our previous Ama Dablam expedition dispatches.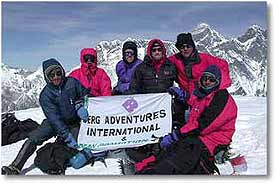 Kathmandu and Trip Extensions
Nepal's capital city of Kathmandu is vibrant with history and culture making it an exciting trip destination on its own. With every Berg Adventures trip to Nepal, we spend a few days in Kathmandu, but there is always more to see and do. If you are interested in extending your trip to give you more time to explore this colorful city, we are happy to help you make arrangements. Read our article "Things to Do in Kathmandu" to learn more.
Those with extra time to spare should consider trip extensions to Tibet, Bhutan or other regions of Nepal. Check out these trips: Seven Days in Tibet and Trekking in Bhutan, or contact our office for alternate regions of Nepal and customized itineraries.