Galapagos Islands Journey with Berg Adventures International – Trip Description
In the world of adventure travel, no destination has more allure than Galapagos.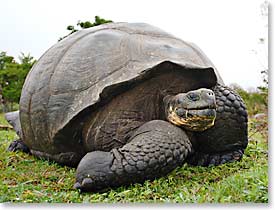 Stark, simple, and beautiful, the Galapagos Islands are truly "The Ends of the Earth," a paradise of tropical splendor where earth, ocean, sky, and life itself are open to be examined.
Six hundred miles west of the Ecuadorian coast, the Galapagos Islands have never been linked to other land masses by bridges of land or ice. The Pacific waters surrounding the archipelago drop off rapidly to a depth of two miles. Protected by distance and geography, the Galapagos ecosystem has flourished through the eons, much of its animal and plant life found nowhere else on Earth.
Imagine feeling the cool Galapagos waters as you swim with penguins and sea lions at the Equator and snorkel with playful manta rays and fantastic species of colorful fish.  Encounter armies of marine iguanas and hundreds of seabirds including the waved albatross, flightless cormorants, and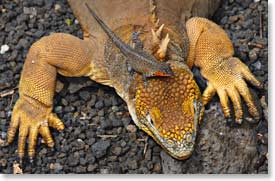 the magnificent frigate bird. Be on the lookout for seventy-year-old Lonesome George, the most famous of Galapagos' Giant Tortoises.
The spirit of exploration and learning are at the core of all Berg Adventures. The BAI Galapagos Journey is among the most exhilarating and rewarding of our travel experiences. Join us for a journey that the world's most experience travelers and adventures count among their life's greatest experiences.
We will travel by air and by sea as we discover the wildlife and explore the natural wonders of Galapagos Islands. In addition to the comfort of the finest sea-going accommodations available in Galapagos, we will have the services of a naturalist, a friendly and fun-loving crew, and a first class cook. 
Our Boat
In keeping with BAI's philosophy of first class travel with no shortcuts, we have chartered the Athala, a luxury-class Catamaran that can cruise faster, go further, and visit more of the Galapagos Islands than any other boats its size. The Athala's unparalleled stability will help ensure a tranquil and relaxed cruise.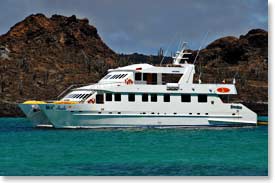 Sixteen passengers can be accommodated in eight comfortable double cabins (six on the main deck and two on the upper deck), each with outside views, air-conditioning, a private bathroom, hot water, and a closet. The Athala also features a Jacuzzi, a dining room, bar and lounge, and library.
Qualifications
The ocean travel and light hiking of our Galapagos adventure are within the abilities of most travelers. See your doctor or travel clinic to obtain proper medications and immunizations for travel to the tropics and to ensure that you are prepared to travel by sea and to walk over uneven terrain.
Internet Broadcast
Updates from your adventure will be posted on bergadventures.com and on Berg Adventures Facebook page. If you would like to have a specific dispatch posted for your expedition, please contact our office for details. We will be happy to accommodate your requests. Our dispatches have been used by family and friends to follow the progress of our groups and by schools to learn about the wild places we visit. They can be a wonderful lasting archive of your adventure.