Climb Mt. Vinson with Berg Adventures – Trip Description
Explore the Ellsworth Mountains of Antarctica
This is the big one. A trip to the interior of Antarctica with Berg Adventures is a lifetime adventure for any explorer. We all seek adventure and beauty to enrich our lives.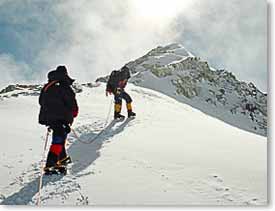 The unspeakable grandness and sublime space of Antarctica is unmatched and will leave you forever with the satisfaction of knowing that you have at least glimpsed the pure, empty soul of our planet.
Mount Vinson, the highest peak in Antarctica, was first climbed in 1966 by Americans John Evans, Barry Corbet, Pete Schoening and William Long. In 1983 Dick Bass and Frank Wells climbed Mt. Vinson during their famous Seven Summits quest. Their pilot was a skilled young British aviator named Giles Kershaw. In 1984 and 1985 Kershaw returned to Antarctica with Canadian climbers Martyn Williams and Pat Morrow. Their team of 8, including Kershaw himself reached the summit of Vinson on November 19th.
It was during the 80's that Giles Kershaw, British glaciologists Charles Swithinbank and Mike Maxwell identified the "blue ice runway" at Union Glacier, the natural feature that spawned the growth of an Antarctic Base. When we leave Punta Arenas Chile on our flight across the Drake Passage for Antarctica, the Blue Ice Runway and Union Glacier will be our goal. After a brief taste of life in a "real" Antarctic Base, we will venture out in smaller ski-equipped aircraft for the Ellsworth Mountains.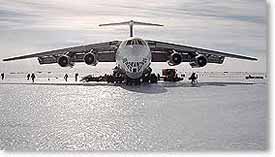 Climbing Mt. Vinson with Berg Adventures involves establishing three camps above our base camp at 8,000 ft on the Branscomb Glacier. Climbing is moderate snow climbing, with slope angles up to 45 degrees. Temperatures are cold, below 0 degrees F for the entire trip. But without the temperature fluctuations that one experiences in other glacier ranges of the world dressing for these temperatures and moving in them is surprisingly easy. In direct sunlight you can be quite warm. Although it is light for 24 hours in the austral polar regions at this time of year, the sun will go behind ridges in the Ellsworth Mountains for a few hours each day. These are hours that we plan to be snug in our tents, resting for the next day's climb. Antarctica is extremely dry. We do not use skis or snowshoes for travel between camps on Vinson. Crampons are worn on the moderately steep slopes of the upper mountain.
Internet Broadcast
Updates from your adventure will be posted on bergadventures.com and on Berg Adventures Facebook page. If you would like to have a specific dispatch posted for your expedition, please contact our office for details. We will be happy to accommodate your requests. Our dispatches have been used by family and friends to follow the progress of our groups and by schools to learn about the wild places we visit. They can be a wonderful lasting archive of your adventure.
View our previous Mt. Vinson expedition dispatches.
Qualifications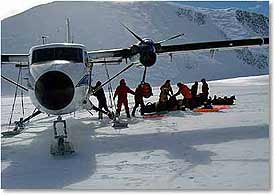 To climb Vinson you need to be in excellent physical condition. This is a glacier climb of easy to moderate difficulty. You should have some experience walking with an ice axe, using crampons and doing self-arrest. Most of the terrain is low angle, but summit day is long and has one 50 degree slope. Antarctica is extreme, but it is a surprisingly pleasant place to camp and live during the light weeks of the high Austral summer when we are there. Because temperature fluctuations are not great, it is easy to dress for the cold, sunny days. You need to have winter camping experience before you go in order to know how to manage your gear and body temperature. Selection of the proper equipment for climbing and camping in Antarctica is imperative. The continent is an uncompromising, vast and wonderful place.