Let Berg Adventures Make Your Charity Fundraising Climb a Success!
"Thank you for an incredible adventure. In my business, there is a concept called "Exceeding Client Expectations." You certainly did that. Not only were the mountain and safari much more than I expected, your attention to detail and little added touches were fantastic – all very well done and appreciated.
You have an incredible passion for what you do; it is much more than just your business... congratulations. I look forward to working with you again in the future."
The Advantage of Berg Adventures Experience
Wally Berg has been leading successful charity climbs since 1988. These climbs bring hope and awareness to causes close to our hearts. Berg Adventures International would be happy to work with you on any of the seven continents to customize an adventure for your fundraising endeavor
Big mountains are always humbling. The accomplishments attained while climbing enrich one's life far beyond the events of a particular "summit day." The preparation, training and dreaming that precede a great adventure are a big part of the total package. We will be with you every step of the way to help you realize both your personal and fundraising goal.
Previous Fundraising Climbs
Chris Von Gartzen – Climb for Paws

Climbing in Bolivia– June 2014

Spinal Health International – Klimb for Kidz

Kilimanjaro, September 2013

Nova Scotia Nature Trust

Patagonia, January 2013

Joints in Motion

Patagonia, October 2010

Keg Spirit Foundation

Kilimanjaro, August 2010

Big Brothers Big Sisters

Everest Base Camp Trek, May 2010

Miles for Cystic Fibrosis

Kilimanjaro, December 2009

Joints in Motion CARE Team

Gokyo Trek, Nepal November 2009

Climb For Kids

Kilimanjaro, February 2009

Big Brothers Big Sisters – Edmonton, Alberta Chapter

Elbrus, July 2008

Climb For Kids

Kilimanjaro, February 2008

United Way / ActionAid / Oxfam / Breath4CF / MS Society / Cure Kids

Supported by IP-Trek

Kilimanjaro, September 2007

Big Brothers Big Sisters – Edmonton, Alberta Chapter

Kilimanjaro June 2007

Investment Planning Counsel – Live Your Dream

In support of Make-A-Wish Foundation of Canada

Everest, 2006

Climb for Kids

Everest Base Camp May 2006

Hunger Hike

Kilimanjaro, February 2006

Climb for Community Living

Kilimanjaro, February 2006

Climb for a Cure - ALS

Kilimanjaro, February 2004
Memories
"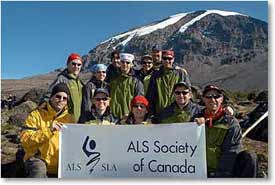 Thank you so very much for all your dedication, thoughtfulness and efficiency in ensuring we had a wonderful climb and safari. Not often do we meet people like yourself who devote so much time and energy to make dreams come true. Doug and I feel very fortunate having been able to meet you and get to know you. You made our climb and safari such a memorable event that we will remember this time in our lives for many years to come.
Wally's presentation of this climb on the Internet was very emotional and exciting for everyone that followed us on the net. Some of my elderly relatives made a point of going to the library as a group to follow us since they don't have computers. I thought this was great."
"You are an incredible and inspirational person who has changed our lives forever. We consider ourselves honoured to have met you, and none of our dreams and goals of the last year would have been possible without you. Until we meet again...
Up…always up!"
"This trip was much more than climbing a mountain. It was about overcoming extreme exhaustion. It was about sharing emotions, the joys and pains with others.
Wally said before our climb that mountaineers have short memories. Well, he is right. When we were reaching Stella's point I was thinking never again. Well now that I am home I am already thinking in my mind about Climb For A Cure, Everest Base Camp, Fall 2006. I must be nuts, but I want to do something like this again. We need to continue to raise money and awareness for ALS."
"I think Wally did a fantastic job in his dispatches of describing our trek to the people back home, and the feedback I have had from people who followed it was that they felt like they were with us every step, and they too felt the emotion and had a cry every day. A lot more tears were being shed than just ours."
"The trip was an incredible spiritual journey for me. You have changed my life forever. I thank you for everything you have given us. You made our dream a reality."