Explore Bolivia, Climb Sajama & Condoriri – Trip Description
Climb the Highest Peak in Bolivia and Explore the Condoriri Range – All in One Great Adventure!
The Bolivian Andes offers some of the most alluring climbing we know of anywhere in the world. Rising to elevations between 13,000 and 21,000 feet (4,000 and 6,500 meters), western Bolivia's massive glaciated peaks and the surrounding altiplano (high plains) feature cobalt-blue skies and remarkably stable weather. Located just 16 degrees south of the equator, these high peaks provide superb and seemingly endless opportunities for alpinists and hikers.
The culture of Bolivia is fascinating, with the highest percentage of indigenous people in the western hemisphere. Many of the Aymara and Quechua people, living in the remote areas, do not speak Spanish. Yet in La Paz, there is a colorful mix of modern and traditional, European and ancient Andean cultures.
Lake Titicaca, located at 12,448ft/3,856m above sea level, provides a magnificent backdrop to this uniquely high world and is an ideal place to adjust to altitude.
From our beautiful base camp by a pristine lake, we will take on some of the major peaks in the Condoriri group; including Pequeño Alpamayo, 17,618ft/5,370m. Then, as a culmination to our Andes climbs, we will attempt Sajama - the highest peak in Bolivia, 21,486ft/6,549m.
Condoriri Only Option (11 days)
Those looking for a shorter mountaineering and cultural experience in Bolivia can join our Condoriri program. This eleven day program provides a great opportunity to acclimatize, explore, learn, and apply mountaineering techniques. The beauty of La Paz, Lake Titicaca, and the Condoriri area; with an attempt on the lovely summit ridge of Pequeno Alpamayo, are a perfect combination. Climbers selecting this option can fly out of La Paz on the same day that the team leaves for Sajama.
Cabeza de Condor
Those looking for a more technical climbing experience we offer the option of climbing Cabeza de Condor during our Bolivia expedition. This beautiful peak is also known as the Bolivia Matterhorn. If you are interested in climbing Cabeza de Condor, call our office for details.
Bolivia Mountain School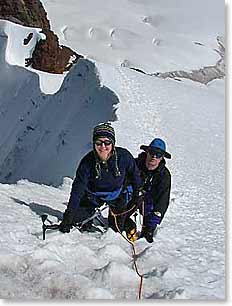 If you are keen to climb with us in Bolivia, but are concerned about your mountaineering skills, or lack thereof, join us for our Bolivia Mountain School: Intro to Mountaineering course which takes place immediately before our regular Bolivia program. The course will give you the skills and confidence you need to maximize your climbing experience in the Condoriri Range and on Sajama.
Internet Broadcast
Updates from your adventure will be posted on bergadventures.com and on Berg Adventures Facebook page. If you would like to have a specific dispatch posted for your expedition, please contact our office for details. We will be happy to accommodate your requests. Our dispatches have been used by family and friends to follow the progress of our groups and by schools to learn about the wild places we visit. They can be a wonderful lasting archive of your adventure.
View our previous Bolivia dispatches.
Qualifications
To climb Sajama and in the Condoriri Range, you will need to be in excellent physical condition and be able to confront the challenges of high altitude. Prior mountaineering experience involving the use of crampons and basic ice-axe technique is recommended. You will need to carefully monitor your body's ability to acclimatize. This will require patience and good judgment. Your guides will assist you in the decision making.