Berg Adventures International Mountain School – Program Description
Whether you aspire to stand on certain summits or to master a specific set of climbing skills, we at BAI take your quest seriously. Our goal is to serve as your personal mountaineering coach as you pursue a lifetime of mountain adventure both in the hills and crags close to your home and in ranges around the world.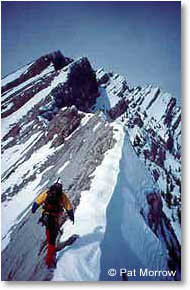 Your development as a mountaineer involves learning a craft. With BAI, you will learn the history of basic climbing skills and techniques and practice them in a spectacular and inspiring environment: the Rocky Mountains and Selkirks of Alberta and British Columbia. The knots, techniques and equipment we teach and use are universal standards. You can climb in any climbing area, mountain range, — or rock gym, for that matter — once you have mastered them.
But your growth as a mountaineer also involves internalizing a certain attitude of self-confidence and independence. "The Freedom of the Hills" as it has been aptly described, comes with observing the mountain environment, knowing your skills, and learning to make safe judgments and decisions in all varieties of terrain and weather. Our goal is to help you grow in the craft of mountaineering by sharing what we have learned from our own climbing mentors and from our lifetime of experience climbing the highest peaks in the world.
Our guides are consummate professionals. Internationally certified, they are teachers, technicians, adventurers and fun-loving free spirits. Our small group sizes and our high guide-to-student ratios are ideal. You will have personalized attention and will experience the camaraderie of roping up with your teammates.
Our courses will give you the basics to make climbing a lifelong activity, from hill walking and peak bagging to climbing rock and ice and traveling on glaciers as you take on the challenges of the alpine environment. Once climbing is in your blood, you will not stop with a list of peaks or goals; the mountains will continue to teach you as long as you visit them. BAI courses strive to provide you with the prerequisites to "get back into the classroom" anywhere you might choose.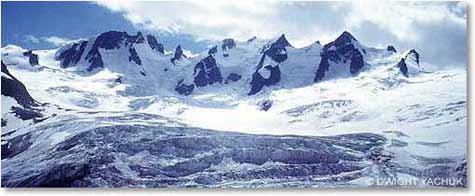 Location of Our Courses
Most of our courses are run in the Selkirk Mountains inside the "Big Bend" of the Columbia River in British Columbia. This stunning and diverse mountain paradise offers an ideal arena to learn skills.
Elevations are moderate — generally between 5,000 and 9,000 feet, or 1500 and 2700 meters. The glacier systems are extensive, and between the granite spires of the Adamant Range and the big alpine faces and ridges of Mt. Sir Sandford can be found virtually every type of mountaineering terrain . The notorious devil's club bushwhacks of the Columbia Mountains are avoided by helicopter access into the higher basins of the Selkirks.
Which course is best for you?
The Intro Alpine Mountaineering Course is our basic skills course It offers a chance to apply your climbing skills if you need to brush up before a "Seven Summits" climb or focus on technical skills. The course is run entirely from the Fairy Meadows Hut.
The Expedition Course is the best way to prepare for expedition climbing, with load-carrying and camping skills used every day.
The Alpine Mountaineering Course with Ascent of Mt. Sir Sandford is an intermediate instructional course. It will be built around an attempt to reach the summit of "The King of the Selkirks", Mt. Sir Sandford, at 3522 meters / 11,550 feet. The challenging and long alpine ice and snow ridges of Sir Sandford provide an excellent introduction to Grade IV climbing on big peaks.
Perhaps the ultimate Canadian climbing trip for you to consider is the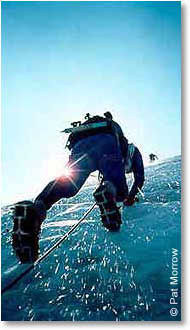 Alpine Mountaineering Course with ascent of Mt. Sir Sandford, followed by an ascent of Mt. Robson. The two trips combined offer an excellent opportunity to acclimatize and a chance to complete two major climbs in the Canadian Rockies and the Selkirks.
Meals
All meals are included in the courses. We will have a professional caterer pack all the food. At the huts, your guides will do the cooking and will be glad to accept help and share their gourmet cooking ideas with you. For the glacier camps, the food will be distributed equally and each individual will be expected to carry his or her share. During these camps the guides will teach stove care and food preparation
Gear List
Upon receipt of your application we will provide you with an equipment list.
Physical Conditioning
BAI courses are physically demanding. We highly recommend that you develop a training program that is related to the activities you will be performing in the mountains. The goal is to develop cardiovascular endurance as well as your overall muscle strength. You want to focus on specific muscle groups that are related to climbing activity. Upon receipt of your application we will send some suggestions for your training. If you are in excellent condition, this will certainly have a positive affect on the quality of your experience. In other words, the more fit you are the more fun you will have. Use your course as motivation to start training today!