Galapagos Islands Journey with Berg Adventures International – 8-day Luxury Cruise Itinerary
Day 1 – Flight to Quito, Ecuador. Welcome at the airport by BAI staff and transfer to your hotel.
Day 2 – Fly to the Galapagos Islands. Board the Athala and sail to Bartholomew Island, home of the Pinnacle Rock, the Galapagos' most famous vista. You may get a chance to swim with the Galapagos penguin.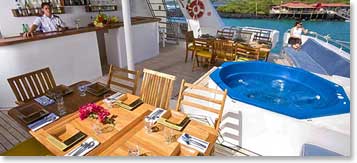 A late-afternoon hike to the highest point on the island rewards visitors with panoramic views of varied lava formations, volcanic peaks and a moon-like landscape.
Day 3 – Sailing north to Fernandina Island, make a morning stop at Espinosa Point and walk close to colonies of marine iguanas, groups of sea lions, and the nesting sites of the flightless cormorant. In the afternoon dock at Vicente Roca Point on Isabela Island. The largest and one of the most geologically active of the Galapagos Islands, Isabela provides habitat for five subspecies of giant tortoise, one for each of the island's five volcanoes. The island is also rich with scenery, amazing lava intrusions, and a huge sea cliff.
Day 4 – The lava and black sand beaches of Puerto Egas greet us for a morning exploration full of opportunities. Also called South James Bay, Puerto Egas is on Santiago Island, one of the few places in Galapagos for viewing Galapagos fur seals. Beach walking and snorkeling bring us near an array of marine life. By afternoon we will reach Rábida Island, a bird-watcher's delight. Some of the rarest species are in abundance, including many varieties of finches, large billed flycatchers, Galapagos hawks, and brown pelicans.Our walking trail makes its way along a red sand beach and then to a hilltop with great views of the surrounding landscape.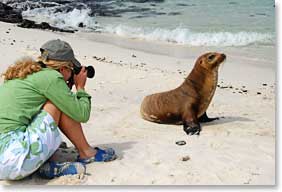 Day 5 – Morning anchorage will be at Isla Lobos, "Sea Lion Island," named for the many sea lions that make their homes here. Snorkel the waters near the island and perhaps find yourself swimming with sea lions. After an onboard lunch, disembark at Puerto Baquerizo Moreno, the capital of the Galapagos Islands. It's a scenic one-hour bus ride to Galapaguera to observe and photograph giant tortoises in their natural environment.
Day 6 – A morning visit to Espanola Island takes us to the breeding sites of nearly the entire population of the world's waved albatross. There are mockingbirds, too, and Darwin finches, hawks, Galapagos doves, and both blue-footed and Nazca boobies. On shore and in the water are red and green marine iguanas and sea lions. Later in the day anchor in Gardner Bay to walk along the lovely white sand beach, see a large sea lion colony, and enjoy bird viewing on the cliffs of Suarez Point.
Day 7 – A flamingo lagoon tucked behind white and black mangroves
is a morning goal on Floreana Island. Clear water and interesting coral growths make this a perfect spot for snorkeling. Later in the day visit Post Office Bay where 18th Century whalers used a barrel as an unofficial mail drop.
Day 8 – Santa Cruz Island is home to the Charles Darwin station. Learn about efforts to protect and promote populations of giant tortoises and land iguanas, and get close enough to both species for great photographs. Nearby, wander the main street of Puerta Ayora for a look at human life in the Galapagos and a chance to do some shopping. An afternoon sailing to Plazas Island brings us near a large sea lion colony.
Day 9 – After a delightful morning walk and some last minute wildlife viewing, return to the airport for the flight back to the cool highlands of Quito to relax in a first-class hotel—a perfect place to seal friendships and savor the memories of a remarkable adventure that will be with us for a lifetime.
Day 10 – Depart for home.