Climb Kilimanjaro via Rongai Route with Berg Adventures
Rongai Route Itinerary:
These itineraries are for the climb-only portion of your trip. If you are doing a climb + safari, your safari itinerary would begin immediately after the conclusion of your climb. See detailed descriptions of three-day and six-day safari options.
Day 1 – International flight to Arusha, Tanzania
Day 2 – Arrive at Kilimanjaro International Airport and meet BAI representatives for transport to hotel. Evening is free for an early quiet dinner somewhere in Arusha, or to relax at the hotel. Overnight in Arusha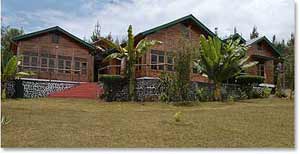 Day 3 – Team orientation at 8 a.m. The morning is for packing and trip preparation. In the afternoon, you will have a chance to relax at the hotel or visit a local market and see the sights in the city of Arusha. Overnight in Arusha
Day 4 – We will drive 4.5 hours in 4 wheel drive Land Cruisers to the wild north side of Kili. You will witness a beautiful, ever changing landscape as you drive around the mountain. Our cook and camp staff will be waiting at a beautiful lodge at 6,400ft (1950m), where you will spend the first night. Overnight at Snow Cap Cottages
Day 5 – An easy first day of hiking on the mountain to Simba Camp 8,530ft (2600m). Overnight at Simba Camp
Day 6 – We will hike through open scenic terrain to Kielewa Cave Camp 11,811ft (3,600m)  Overnight at Kielewa Camp
Day 7 – A longer day of hiking to one of the most wild and beautiful camps in all of Africa, The Mawenzi Tarn (lake) at 14,200ft (4330m) Overnight at Mawenzi Tarn Hut
Day 8 – Hike to the Outward Bound School Hut 15,580 ft (4750m) Overnight at Outward Bound School Hut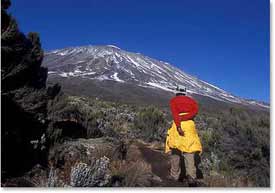 Day 9 – Summit day. Up in the middle of the night. The climb through the starlit upper reaches of Kilimanjaro will seem endless. But as the bead of gold finally appears on the eastern horizon and you breathe the cold, dry air at 19,000 feet, you will know that you have succeeded in reaching the rooftop of Africa.   We will reach the summit via the Hans Myer Cave and Gilman Point.  After our summit we will descend to Horombo Camp at 12,140ft (3700m) on the famous Marangu, or tourist route. Overnight at Horombo Camp
Day 10 – The exhaustion of yesterday's long summit day, and the thick air down in the forest may have you waking from the deepest sleep you can remember. We will descend to Mandara Hut and after a festive and relaxing celebration with our mountain staff at the park gate, we will return to our hotel in Arusha for hot showers and comfortable beds with clean sheets! Overnight Arusha.
Day 11 – Depart Kilimanjaro international Airport
Day 12 – Arrive in North America