One Team – One Mountain:
Berg Adventures Everest Expedition 2006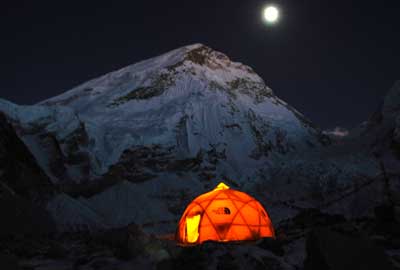 With their sights set on the highest summit in the world, the Berg Adventures' Everest Expedition 2006 team will be breaking new ground and setting new standards in mountain climbing this fall.
Lead by four-time Everest summitter Wally Berg, and seven-time summiter Dave Hahn, this is an exceptionally strong team that is garnering much attention. The team will have the opportunity to approach climbing Everest is a simple, unfettered style, one team with all the equipment and support they need.
Leadership, respect for one another, respect for the mountain and love for the Sherpa people and their traditions and culture living at the base of the Mother Goddess Chomolonga, or Mt. Everest ,will define our efforts this fall. Watch here for regular reports form this exceptional team of adventurers.
Climbers:
Wally Berg
Michael Boni
Bryce Brown
Jimmy Chin
Kit DesLauriers
Rob DesLauriers
Dave Hahn

View photos and bios of our Climbers, our Sherpa Climbing Staff and our Sherpa Support Staff

---
All Text, Images and Audio Files © Berg Adventures International 2006