Climb Aconcagua & Ojos del Salado with Berg Adventures – Trip Itinerary
Day 1 – International flight to Copiapo via Santiago, Chile.
Day 2 – Arrival in Copiapo. You will be met by our staff and transferred to your hotel in the beach city of Bahia Inglesa for our first team meeting.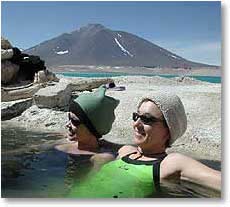 Day 3 – Early morning departure to Lake Santa Rosa where our adventure begins. Four–wheel drive to our first camp, close to the Salar de Marikunka.
Day 4 – Day of exploration around this extraordinary saltwater lake, which is home to large numbers of flamingos.
Day 5 – We will continue on to Laguna Verde (Green Lagoon), where we will camp at 15,100 feet (4600 m). This beautiful turquoise lake has natural hot springs situated along its shores.
Days 6 / 7 – Acclimatization days, with the option of climbing a couple of peaks in the area.
Day 8 – Ascent of Volcano Mula Muerto for acclimatization at 18,700 feet (5200 m), and return to our camp for a pleasant soak in the hot springs.
Day 9 – Today we will move to Ojos de Salado, High Camp I, Universitario Shelter, where we set up our camp at 16,400 feet (5000 m).
Day 10 – We climb to High Camp II, "Cesar Tejon," at 19,000 feet (5800 m), and spend the night.
Day 11 – Summit day on Ojos de Salado. After waking in the early morning we leave high camp and begin our climb to the summit.
Day 12 – Alternate summit day, or descend to Green Lagoon.
Day 13 – Drive back to Copiapo and spend the evening.
Day 14 – Flight to Mendoza via Santiago. Transfer to the hotel.
Flight back home for those joining our Ojos del Salado program only.
Day 15 – Morning free to discover this beautiful town and enjoy its food and wine. Meeting in the afternoon with the Ministry of Tourism in order to obtain the permit to climb Aconcagua. For members of the group who are interested, we can schedule a visit to one of the areas wineries for a gourmet lunch.
Day 16 – Departure from Mendoza and journey by vehicle to Puente del Inca (the Inca Bridge), which is at 10,000 feet (2726 m). On this day we will drive and hike to Confluencia, 11,000 feet (3368 m), where we will camp. Our gear will be transported on mules.
Day 17 – Day trek and hike to Plaza de Mulas Superior (Mule Square), at 13,800 feet (4200 m). This will be our basecamp.
Day 18 – Rest day at Plaza de Mulas.
Day 19 – Ascent to our first camp, Plaza Canada.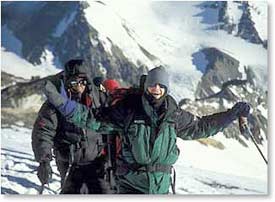 Day 20 – Climb to Nido de Condores (Condors' Nest) camp, at 18,000 feet (5500 m), where we will spend the night.
Day 21 – Climb to Berlin High Camp, at 19,700 feet (6000 m).
Day 22 – Summit day. We will have a long day to the top of Aconcagua, at 22,841 feet (6962 m). After reaching the summit, we will descend to Berlin Camp for the night.
Day 23 / 24 – Alternate summit days or descent to basecamp.
Day 25 – Hike down to Puente del Inca, transfer to Mendoza.
Day 26 – Flight to Santiago and return flights to home country.
Day 27 – Arrival in home country.