Ama Dablam Expedition Itinerary
Day 1 – North American departure (most trekkers fly via Bangkok-Kathmandu).
Day 2 – Overnight in Bangkok
Day 3 – Arrive in Kathmandu. We will meet you at the airport and take you to your hotel. Briefing in the afternoon.
Day 4 – Kathmandu: Our first day in this famous city will be spent touring major temples and sites. Kathmandu is a rich cultural destination.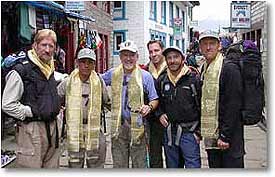 Your introduction will only skim the surface, but it will be a unique and fascinating beginning. It will be a good opportunity for the team to have fun and begin to share experiences together. Each tour is different and your body clock will be adjusting to being on the other side of the world. In addition we will be completing any last minute business with the Nepalese Ministry of Tourism, the agency that issues the Expedition Permit for our climb.
Day 5 – The flight to Lukla. This spectacular mountain landing strip is the gateway for expeditions, trekkers and Sherpa people to the Everest Region. You will be transported from Kathmandu to a bright and colorful scene in clear mountain air. It will feel good to stretch your legs, stiff from days of travel, as we walk downhill to the village of Phakding, along the banks of the Dudh Kosi River. Times have been good in the area recently and the trail is full of new Buddhist art, prayer flags and small monasteries. We sleep tonight with sounds of the roaring glacial water of the Dudh Kosi in the background.
Day 6 – Today we hike along the Dudh Kosi, entering Sagarmartha National Park just after lunch. By mid afternoon we enter Namche Bazaar. Namche is small, scenic beyond belief, and surprisingly cosmopolitan. A mixture of Tibetan traders, tourists from around the world, expedition climbers, proud Sherpas, monks, Nepalese civil servants, dust, mud, colorful costumes and yaks.
Day 7 – Rest day, Namche Bazaar.  In Namche we are acclimatizing while we prepare the logistical details of our Expedition.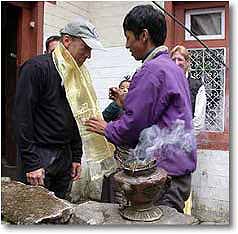 We stay indoors in a classic Sherpa style lodge, one that is operated by an old friend of ours. We can take a 10-minute walk to the National Park overlook just above our lodge. Our view of our objective, Ama Dablam, from this vantage is world famous.
Day 8 – Khunde via Thame.  This is a day to get some exercise and visit Sherpa friends.  We will cover some distance and move briskly for conditioning. We might visit the Monastery at Thame or the memorial for Hillary's wife above Khunde.  We will spend the night in Khunde, sleeping at 12,800 feet.
Day 9 – We arrive at Tengboche. This sacred and inspiring spot is the home of the same Rinpoche, or reincarnate lama, who blessed Hillary and Tensing when they approached Everest in 1953, and Barry Bishop and the team who would make first ascent of Ama Dablam 8 years later. We will receive our blessings as well, and reflect quietly from the most famous mountain monestary in the world.
Day 10 – The classic hiking day of the Khumbu. Ama Dablam towers above us as we walk up the Imja Khola valley. We pass through Pangboche, where the trail crosses the river leading to Ama Dablam Base Camp, and continue on to Pheriche, (14,000 ft.) home of the Himalayan Rescue Association clinic.
Day 11 – Before moving to our Base Camp we take advantage of another day of acclimatization at Pheriche. There is excellent terrain in this area for climbing higher for conditioning and two nights at this elevation will aid our acclimatization.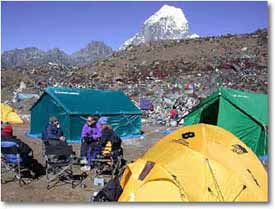 Day 12 – In 2002 and again for 2004 we have chosen Lobuche Peak for our "bonus" conditioning climb. Today we move up valley to the wild and beautiful Base Camp for Lobuche.  This is one of the most spectacular camping locations in the Khumbu, perhaps rivalled only by Ama Dablam Base Camp itself.
Day 13 – 16 – Climb of Lobuche Peak. While we are continuing our acclimatization and working on this beautiful route, our Sherpa team will be establishing our lower camps on the SW Ridge of Ama Dablam.  We will be in daily radio contact with them about weather and conditions on Ama Dablam while we are climbing Lobuche.
Day 17 – In a long day we return to the village of Pangboche for showers, a great meal and a good night's sleep in a bed.
Day 18 – We will occupy the Ama Dablam Base Camp that has been established by our Sherpa team. Our new home above 15,700 feet at the base of the West Face of Ama Dablam will be a place to relax and prepare for the climb. The view above us of the "Dablam", the hanging glacier adjacent our route and high above us will be exciting.
Day 19 - 20 – Carry to Advanced Base Camp and Rest day.
Day 21 – Move to Advanced Base Camp, (17,700')
Day 22 – Carry to Camp I ( 18,700') The climb involves moving carefully on 4th class terrain and through boulders. We return to Advanced Base Camp for a third night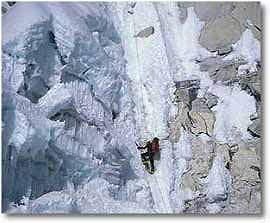 Day 23 – Move to Camp I.
Day 24 - 27 – Once we have occupied Camp I we can decide based on weather, coordination with other teams, and our "gut feelings" when to begin our summit push.  The route from Camp I to Camp II is a beautiful rock route around gendarmes and towers, exposed, with fantastic views and good quality rock. The terrain is 4th class and 5th class rock climbing with the crux a 5.7 section at the " Yellow Tower" leading to Camp II, a thrilling spot, large enough for our tents and our dreams as we settle down for a climber's night of rest.
The route to Camp III is mixed climbing including an ascent of a 50 degree snow couloir and a traverse along the "mushroom ridge." Camp III itself is at 21,000' beside the famous hanging glacier that is the Ama Dablam, or "Mother's Jewel Box" for which the mountain is named
We might have already have reached the summit by day 28, otherwise we will have 3 more alternative days to summit.
Day 28 – 30 Alternate Summit days
Day 31 – Return to Base Camp and Sherpa Party to celebrate.
Day 32 – Base Camp to Namche
Day 33 – Namche to Lulka
Day 34 – Lukla to Kathmandu
Day 35 – International departures from Kathmandu
Day 36 – Arrive in North America.