Bhutan Trip Dispatches
Bhutan – The Last Shangri La: May 23 - June 1, 2008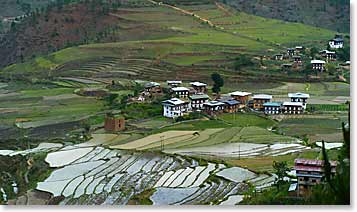 We may not see flying tigers, thunder dragons or even a kingdom in the clouds but our imaginations will be full of these exotic figures when we travel to Bhutan. Bhutan is a land of myths and legends that are alive today in preserved culture and maintained traditions. Magical, colourful and unique, trekking in the kingdom of Bhutan is perhaps the ultimate Himalayan adventure. Please stay tuned as our group treks through the remote high lands of Bhutan.
Climbers:
Charles Martin
Caroline Martin
Dennis Comfort
Guides:
Latest News and Daily Dispatches:
If you've enjoyed following this Berg Adventures cybercast, please be sure to tune in for our next cybercast. Or better yet, contact us to let Berg Adventures help you with plans for your own great adventure!