The Berg Adventures International
Big Brothers Big Sisters Kilimanjaro Climb 2007

Lemosho Route June 22 – July 10: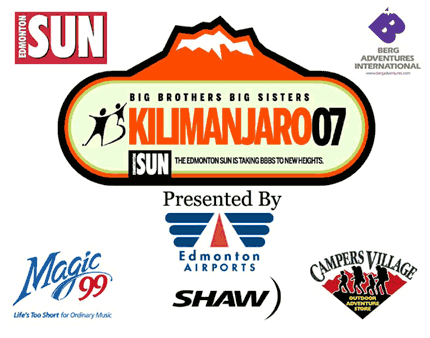 Thursday, June 21, 2007 the adventure begins for five Edmontonians from Alberta, Canada who will attempt to summit Mount Kilimanjaro with Berg Adventures International.
With the generous support of The Edmonton Sun, they have turned the adventure into "The Sun's Climb for Kids presented by Edmonton Airports" program. Through the media attention it's received, this climb for a cause has generated thousands of dollars and new volunteers for one of Canada's leading children's charities, Big Brothers Big Sisters and its In-School Mentoring Program.
We hope you enjoy the dispatches from their adventure.
Please support Big Brothers Big Sisters, click here to be taken to the donation section of their website. 100% of your funds go to their in-school mentoring program, working to reduce the waiting list.
For more information click here.
The Sun's Climb for Kids presented by Edmonton Airports trekkers include:
Jim Barr (co-chair of program)
Kim Fedorek
Colin Herbert
Sue Lambert
Rob Miller
Latest News and Daily Dispatches:
July 6, 2007 – Kwaheri from Tanzania, Africa

July 5, 2007 – Jim Meets His Match
July 4, 2007 – The Adventure Continues
July 1, 2007 –Summit of Kilimanjaro on Canada Day!

June 30, 2007 – Uhuru Peak Within Arms Reach
June 29, 2007 – Climbing the Barranco Wall
June 28, 2007 – Full Moon and 72 Hours to Go
June 26, 2007 – Learning Swahili
June 25, 2007 – Visiting the School and Getting Ready to Start for the Climb
June 23, 2007 – Underway in Arusha
---
If you've enjoyed following this Berg Adventures cybercast, please be sure to tune in for our next cybercast. Or better yet, contact us to let Berg Adventures help you with plans for your own great adventure!
All Text, Images and Audio Files © Berg Adventures International 2007