Berg Adventures 2005
Everest Base Camp Trek and Island Peak Climb: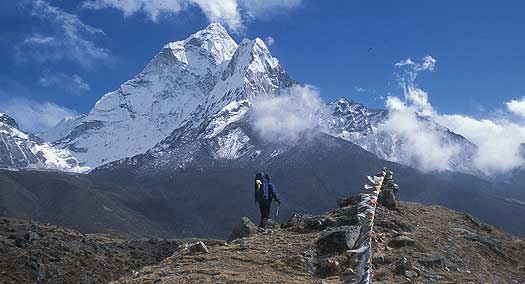 Berg Adventures kicks-off our spring season in Nepal with another great Everest Base Camp trek. We'll also have a team attempting to climb Island Peak after the trek!
Our group will be walking in the shadow of the greatest mountains on earth and visiting the colorful villages and monasteries of the Everest Region. At every turn they will be greeted with the friendly faces of some of our oldest and best mountaineering friends.
Each day will be full of surprise and adventure. Join guide Wally Berg, our Sherpa staff and our BAI trekkers as we travel once again to the "Abode of the Gods" at the base of the world's highest mountain.
Our Spring 2005 Team Members:
Daniel Alexander
Wes Alexander
Richard Waddell
Katherine Waddell
Mark Garvin
Brad Van Ness
Shelley Freeman
Island Peak Climbers:
Brad Van Ness
Shelley Freeman
Latest News and Daily Dispatches:
May 24 – Signing-off from Kathmandu

May 22 – Island Peak Team Leaving Namche
May 23 – Goodbye from Kathmandu: Final EBC Dispatch
May 22 – Island Peak Team Reports Success
May 20 – More Images from our EBC Team
May 20 – EBC Team Back in Kathmandu
May 19 – Island Peak Team Reporting from High Camp
May 19 – EBC Group: Last Day of Trekking and Farewell Dinner
May 18 – Island Peak Team ready to move to High Camp
May 18 – EBC Group Leaving Namche
May 17 – Island Peak Expedition Feeling Strong and Well-Acclimatized
|May 17 – Images and Special Moments from our Trek to Everest Base Camp
May 17 – The Trekking Team is Enjoying Namche
May 16 – Back to Internet, Showers, and Mountain Gossip!
May 15 – Team Returns to Pangboche
May 14 - Everest Base Camp
May 13 - The High Point of our Trip
May 12 – Mark's Surprise Birthday Party at 16,000 feet
May 11 – Resting and Meeting Everest Climbers
May 10 – The Prettiest Mountain Walk on Earth
May 9 – Namaste from Pangboche
May 8 – More photos from Thame
May 8 – Finally seeing the Mountains
May 7 – The Namche Bazaar Saturday Market
May 6 – The International Scene in Namche Bazaar
May 5 - The "Walking Patio" Arrives in Namche
May 4 - Team Reports in from Lukla
May 4 – The Sights and Wonders of Kathmandu
May 2 – Expedition Underway in Kathmandu