The Berg Adventures International
Kilimanjaro 2006 Lemosho Route Expedition: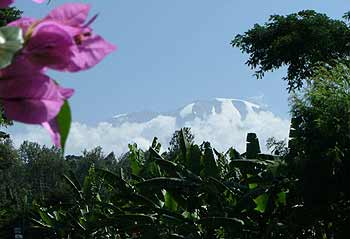 Welcome to coverage of the Berg Adventures International Kilimanjaro June 2006 Lemosho Expedition. Over the next few days, we'll be bringing you continuous coverage as we attempt to reach the summit of Mt. Kilimanjaro, the highest point on the African continent. We hope you'll join us on this adventure of discovery.
Climbers:
Andrew Leptich
Twyla Peterson
Latest News and Daily Dispatches:
August 20, 2006 – Balloon Ride Over Serengeti

August 18, 2006 – Ngorongoro Crater Adventures
August 17, 2006 – First Days of Safari
August 15, 2006 – End of the Trail
August 14, 2006 – Team Reaches Summit of Kilimanjaro
August 12, 2006 – Cosolo Camp (15,800 ft, 4815 M)
August 11, 2006 – Moving Up on Kilimanjaro
August 10, 2006 – Full Bellies at Lava Tower Camp
August 7, 2006 – Team Arrives in Arusha
---
If you've enjoyed following this Berg Adventures cybercast, please be sure to tune in for our next cybercast. Or better yet, contact us to let Berg Adventures help you with plans for your own great adventure!
All Text, Images and Audio Files © Berg Adventures International 2006