The Berg Adventures International
Kilimanjaro 2006/2007 Lemosho Route Expedition: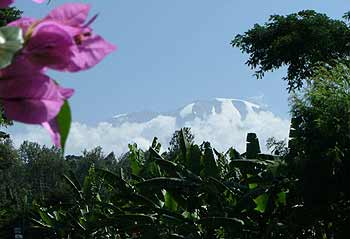 Welcome to coverage of the Berg Adventures International Kilimanjaro December 2006/2007 Lemosho Expedition. Over the next few days, we'll be bringing you continuous coverage as we attempt to reach the summit of Mt. Kilimanjaro, the highest point on the African continent. We hope you'll join us on this adventure of discovery.
Climbers:
Chuck Nacos
Angela Nacos
Cheryl Davidson
Christina Evanson
Jeff Evanson
John Nacos
Lauren Williams
Latest News and Daily Dispatches:
January 9, 2007 – A Beautiful Oasis

January 7, 2007 – Enjoying the Safari
January 5, 2007 – Off the Mountain a Day Early
January 3, 2007 – Nacos Family Reaches the Summit of Kilimanjaro
December 31, 2006 – The Sun Comes Out!
December 30, 2006 – Nacos Family's First Report from Kilimanjaro
---
If you've enjoyed following this Berg Adventures cybercast, please be sure to tune in for our next cybercast. Or better yet, contact us to let Berg Adventures help you with plans for your own great adventure!
All Text, Images and Audio Files © Berg Adventures International 2006