Good morning from Condoriri base camp, this is John Freeman calling, it's June 26th. We've had an exciting morning already today. After yesterday's wonderful climb of Pequeno Alpamayo and all the summit team making back down safely including Jerri Bryant, Steve Slaughter, Alex and Julie Wallace and also Philippe David from France. We had a good rest and now we are up and ready for breakfast.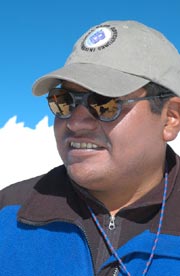 We were greeted this morning with the news that Opus Veres who yesterday was suffering from some stomach distress yesterday and didn't attempt Cabeza de Condor did in fact attempt to go this morning, leaving at 3:30am and at about 7:15am we got word across from the radio that he, Juancho and Oswaldo who were two of the guides who were with us on Pequeno Alpamayo all made the summit. It's such a clear morning we were able to make out the forms on the summit ridge just at the summit and talked to Opus for awhile.
He's tired but very happy, he's had a great success and I must say that it is very exciting and he needs to be proud that after suffering from the stomach problems the day before that he has rebounded and kept his motivation to get up and go. Also, for our Bolivian guides who are excellent to make a long day yesterday, about 11 hours and then to pick it up again and accompany Opus to the summit of Cabeza. Opus has described it as being a wonderful, airy summit ridge somewhere between 14 and 16 inches wide across most of it. So as you can imagine it's quite exciting for him and he said the views were stunning for him there.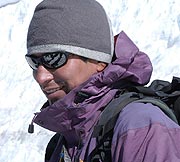 Now they are making their way back down, we should see them in base camp by 11:00am. Most of the team though will be departing earlier for La Paz and of course they will be welcomed at the hotel Europa and they'll be happy to have their showers and I am sure many will book massages as is the custom when you return to La Paz after our time in Condoriri.
So that's all from base camp and after our rest in La Paz we'll be gearing up again for our attempt of Sajama in the southwest of the country.