June 27, 2006 - Southwest Bolivia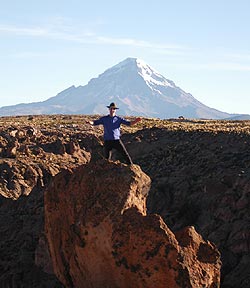 Ola. This is John calling from Sajama village in southwestern Bolivia, the altitude here is about 4284m or 14,055ft. I'm happy to report that our entire team is together and doing very well. It's been another classic day here in Bolivia. Today was a transfer day, we drove approximately 250km (155 miles) from La Paz down here to Sajama village to climb this big mountain.
Today was a classic Bolivian day for sure. We started our day leaving the city early in the morning. There was a lot of activity around our hotel Europa, the European Union has sent a fairly large contingent of observers here to observe the upcoming elections on July 2nd Just a small distraction before we headed for the road.
Early in our drive we stopped to visit some ancient Amara tombs dating back to about 1300-1500AD. Very interesting tombs even along the side of the road…[lost transmission]