June 25, 2006 - Team Reaches Summit of Pequeno Alpamayo!

Listen to Audio of John's Call (.wav)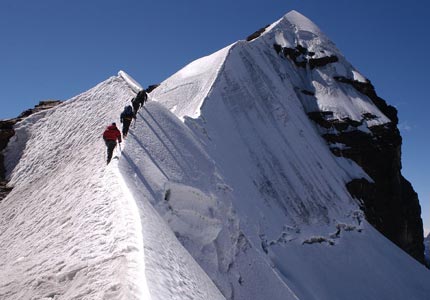 Hey, it's John Freeman calling from the summit of Pequeno Alpamayo and I'm looking at a lot of happy faces here with a gorgeous, windless day, super bright, warm. You couldn't ask for a better summit day at all.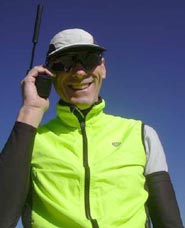 We started early this morning; we left camp at about 4:30am. We hiked in darkness under the stars, no moon, to the glacier. Made our way up the glacier and over to Tarija and then we got a good look of the summit ridge of Pequeno Alpamayo which is spectacular from that view point. Then came the real climbing, a bit of rock climbing into a col and then from there the team attacked the summit all the way to the ridge and they all did very well, very strong, kept their motivation up, kept themselves fed. Some of the training we did throughout the week they all followed that and did a really great job and I know they are all happy to get to the summit.
Getting down will be a long part of the day but I think having reached the summit it shouldn't be a problem. We are looking forward to getting back to base camp and a good hearty meal and meeting up with our good friend Opus. Opus had a bit of a stomach problem and Philippe's wife went hiking today and both of them were able to talk to us while we were on the summit by radio and gave us a lot of support. The team is still together from top to bottom here in the Condoriri, on top of Pequeno Alpamayo and we'll report to you when we reach the base.