June 24, 2006 - Snow at Base Camp

Listen to Audio of John's Call (.wav)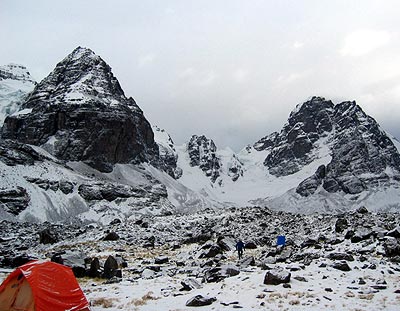 This is John Freeman calling again from Condoriri Base Camp on the Berg Adventures Bolivia 2006 trip. This day has been full of surprises. The weather in Bolivia is extremely stable this time of year, lots of sun, some winds but generally quite good. Last night we were all awoken to the sound of thunder and the sight of lightning and that in combination with snow. We woke up to a little skiff of snow across everything, our tents, the ground which made moving around a little strange for us since we've been accustomed to such dry and wonderful weather here.
Today the team is practicing working with fixed ropes which we will use for a short section of Pequeno Alpamayo and also for Sajama and they all took to it with little difficulty, they are all finding it quite easy to use and that will make the day go along quite nicely. People are starting to pack for tomorrow's summit. We will be leaving at 4:00 in the morning Bolivia time and we will make our way up to the summit of Pequeno Alpamayo. We expect it to be around a 12 to 14 hour day, certainly a long one for everyone, including the guides.
Our Bolivian guides Juancho and Oswaldo and this year Edwin is here to help guide on Cabeza de Condor, so the team's back together and I must say they look pretty good in their new Berg Adventures International jackets and they are excited to be back here again guiding in this area. Everyone continues to be healthy and happy and I think there is a mixture of anxiety and excitement but more excitement I think as they are looking forward to tomorrow to get the big climbs underway. And that's all from base camp today.