We are in Condoriri Base Camp now, 4630 meters or 15,190 feet. Yesterday was another great day in Bolivia. After greeting the New Year in the Amara tradition of watching the sun rise we boarded our bus, also known as the Falcon and drove to Tuni Condoriri. When we got out of the bus we all became Bolivian gauchos for an hour, we helped the llama ladies load our pack animals by forming a roped coral around a dozen or so friendly beasts of burden. This was fun for everyone, after spending so much time on the bus it was a terrific diversion.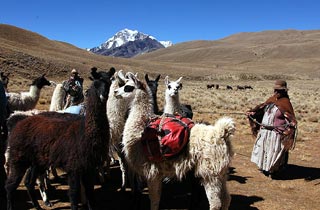 After this we started our 3 hour hike to our home for the next 5 nights, our base camp. Our team was elevated about 800 meters (2625 ft) both by bus and hiking and I must say that I'm a bit impressed and happy by how well the group moved today. We have 2 acclimatization hikes in the following days, combined with the base we have already built I feel that we have even better days to come in these beautiful mountains here in Condoriri Base Camp.
From where I'm sitting I can see Cabeza del Condor and it's left wing, I can see Wyoming and the Black Needle, I can also see Tarija which will be one of our peaks that we climb on our way to Pequeno Alpamayo. The conditions this year are very good; the glacier is holding more snow than it did in past years. I think people who have been on this trip will remember the hard icy conditions but this year we are in luck with much better conditions for our summit bid. I know that as our team continues to acclimatize we have good things to come. So check back for more updates as we approach our summit day.