It's June 22nd, day 6 of our Bolivia 2006 trip and we had a great day today. We rose with the sun; the camp warmed up at about 8:00am and gently coaxed us to start our day. I think we have it pretty good here at base camp. Juan Carlos, Charlie (our cook), Leo who is Juan Carlos' brother are taking very good care of us with hot water and large, tasty breakfasts. We are the envy of all the other climbers who are here in the Condoriri now. It's not crowded but there are other people here, other climbers coming to see these peaks. We are definitely enjoying what we have here.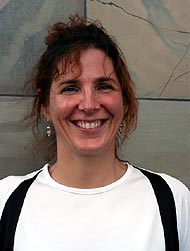 Today we did our first hike in the Condoriri for acclimatization. Leaving from camp at about 10:00am, we scrambled our way up the ridge of Mirador. Now the team did really well today and gained a height to a maximum of 4925m (16,160ft). After this we worked our way back down to camp.
Jerri's kids Duncan and Adam will be happy to know your mom is doing really well and she's teaching us some new words. Words like 'combo' of 'llama beans' not to be confused with that legume used in soups... the boys will know what I'm talking about.
Just before dinner Opus and I blasted over to check out the glacier we use to approach Pequeno Alpamayo and this is where we may practice some glacier skills in the coming days. And just like the energizer bunny he is, we trucked along doing the normal 2 hour approach in just 40 minutes. So that's ciao for now form Condoriri base camp.