November 15, 2006 – Team Reaches Ama Dablam Base Camp

Listen to Audio of John's Call (.wav)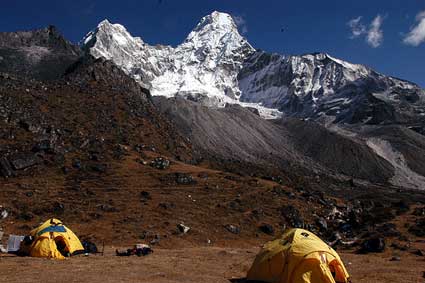 Hi everybody, its John calling from Ama Dablam Base Camp, the whole team is here and we are at 15,700 feet (4785m) in this beautiful meadow below our objective, Ama Dablam. Today was quite a relaxing day, we woke and had breakfast and after lunch we started the 2 ½ hour trek up here to Base Camp.
A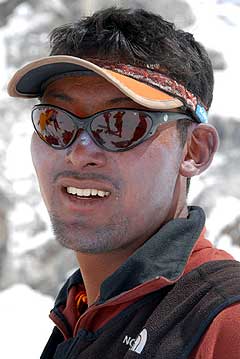 funny story, I think the yaks knew how hard it might be because three yaks belonging to a lady who calls Khunde home made off during the night and escaped. Word has it that they returned to Khunde and they just did not want to take our loads up to camp here. But everything has arrived; our team is setting up camp for us as I speak. We have Pasang Sherpa, one of our climbing Sherpas, who just returned from Camp II earlier this morning. He was up there at 6:00am and returned down to Base Camp at 1:00pm, definitely a very fit fellow and at 28 he has 4 Everest summits under his belt. He will be a great asset to our team.
Peter and Karen as I mentioned before have acclimatized very well and made it up here with no problems at all. On a sad note for our team we will be saying farewell to Karen as she descends into the valley this evening to start her trek tomorrow back to Lukla and then take the flight to Kathmandu before returning home to Seattle, Washington.