November 16, 2006 – Preparing for the Climb

Listen to Audio of John's Call (.wav)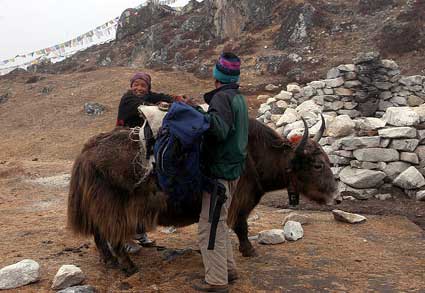 We spent today preparing for our climb on Ama Dablam here at Base Camp. Peter and I took time after breakfast to sort through food supplies that we will be using to fuel our bodies high on the mountain. The weather is following a predictable pattern, clear and quite cold in the mornings and then the power of the sun melts the frost and warms everything by about 10:00am.
So as planned today we took advantage of the good weather to get in a hike. We followed the moraine that we will use tomorrow, one that leads to Camp I. We climbed for about an hour today and spent some time enjoying the views and this is a great way to maintain our acclimatization that we have worked so hard for.
Without a doubt this is one of the most beautiful base camps that a climber could hope to spend time in. There are so many peaks to see and the setting is absolutely gorgeous. The days are sunny and even though the nights are cold here we are warm in our sleeping bags and we fall asleep to the melodic chiming of yak bells and our dreams tonight are of the climbing yet to come.