November 13, 2006 – Team Reaches the Summit of Lobuche

Listen to Audio of John's Call - Part 1 (.wav)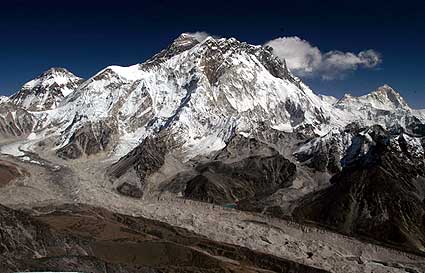 Hi there it's John and I'm happy to be calling from the summit of Lobuche 6150m (20,180ft). We had a great day today, windless, clear blue sky and everyone did very well, moved with a good steady pace which is what we needed today. Now we are just about to take some team photos.
From where I sit I can see Everest quite clearly, I can see Makalu, Pumori and we can also see our base camp, which is where we will be heading to after a little bit longer here at summit. So we will be calling from high camp just to let you know we are down safe. Everyone is here right now, Nima, Dasona, Ang Temba, Peter, Karen and myself.
[ Later in the day...]

Listen to Audio of John's Call - Part 2 (.wav)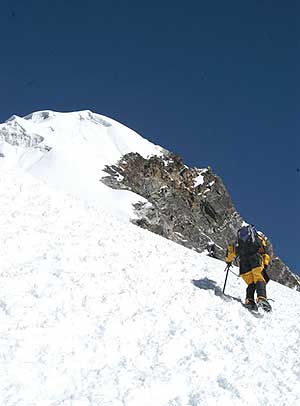 Our climbing team is back at base camp now after an 11 hour day. A day that we could not ask for better weather and a windless day. We saw so many peaks from the top of Lobuche today and everyone did very well. Karen and Peter kept a really strong pace today which was key to their success. Our Sherpa team Nima and Dasona went ahead and fixed ropes for us while myself and Ang Temba stayed with Karen and Peter as we climbed up the snow towards the summit.
Now we are all back here at base camp and we are hungry and sitting down to another one of Karsang's wonderful meals.