November 11, 2006 – Goodbye to One of Our Teammates

Listen to Audio of John's Call (.wav)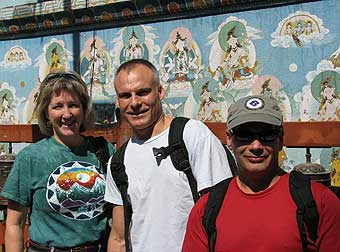 It's John calling from Lobuche Base Camp at approximately 15,400 feet (4694m). Today is a day of mixed emotions for our climbing team. It was just after noon when we wished safe travels to one of our teammates. Early in the expedition Peter, George, Karen and myself all had a bout of traveler's stomach problems, something that is not all that unusual when visiting different parts of the world…[broken transmission]…more often than not rather the symptoms are short lived and one can get back on track. Sometimes the problem can persist, so with sadness today we wished a speedy recovery and safe travels to our teammate and friend George Carabetta. It's been rather amazing to me how four people who really have not met each other before could become quite good friends and I know that we will continue that friendship into the future.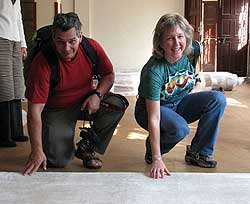 George is a man who has great energy for life and loves high places. George's experience in the mountains has taught him what it takes to get to the top and when the timing is right and being such a positive person I know it was tough for George to tell me that he wasn't recovering as he needed to as we came closer to Base Camp and the mountains. After a short discussion we agreed that going down to a lower elevation was the only way to regain his strength.
George is now trekking with one of our guides, Min, and a porter towards Lukla and then on to Kathmandu. He will be in radio contact with us until he reaches Lukla where he will board the plane and be picked up by the rest of our support staff in Kathmandu. Later he will board his flight and return home to his wife who he spoke of very often on this trip. We will miss George but we know that this is the best for him at this time.