November 11, 2006 – Sushi at Lobuche Base Camp

Listen to Audio of John's Call (.wav)
Hi there folks it's John calling again, it's November 11th here in Nepal. We are at the Lobuche base camp where we are at about 15,400 feet (4694m). We've had a pretty good day here with good weather, some cloud but no wind and we used the day today to practice on skills. We worked on ascending fixed ropes and we also did some work with rappelling that Peter, I and the rest of the team will use later on Ama Dablam.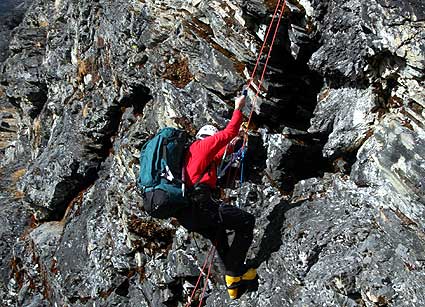 Today one of the big highlights actually was the food. Karsang our amazing cook, who at nearly 16,000 feet made us a great breakfast this morning of hot oat porridge with fresh fruit and toast with eggs. After we had some exercise around camp and getting prepared for the upcoming days in the mountains on Lobuche, he surprised us with sushi rolls here at base camp as well as some toasted cheese treats that we all enjoyed. So we had sushi with wasabi and Japanese soy sauce was a real surprise. So then we did our practice in the afternoon and tonight we just finished yet another incredible meal of pizza and dal bhat which is a local dish enjoyed by Nepalese and finished it off with hot chocolate pudding.
So for now we are just enjoying wonderful, clear sky where we can see the Milky Way and the light of the evening sky is glowing off the nearby peaks and we are anticipating another good day tomorrow.