November 9, 2006 – Enjoying the Views from Pheriche

Listen to Audio of John's Call (.wav)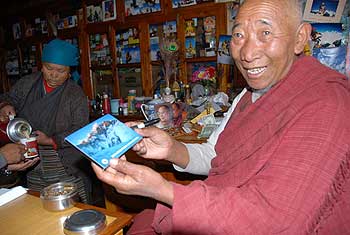 Hi there it's John calling from Pheriche, it's November 9th and we are at about 14,200 feet, 4300 meters. It's been a great two days. After spending the night in Pangboche we woke up to yet another clear view of Ama Dablam. Peter, George, Karen, Ang Temba and I made our way up the hill to visit Lama Geshi. After spending some time and sharing tea we received blessings from Lama Geshi in order that we have a safe passage in the mountains and our return journey home. After lunch we made the 2 hour hike up to Pheriche and we are spending a second day here at 14,000 feet to help with our acclimatization for the higher mountains.
Earlier this morning the team along with Min and Nima hiked up a ridge to overlook Pheriche and Dingboche which is just across the ridge from where we are. The views of the mountains… [lost transmission]

Listen to Audio of John's Call (.wav)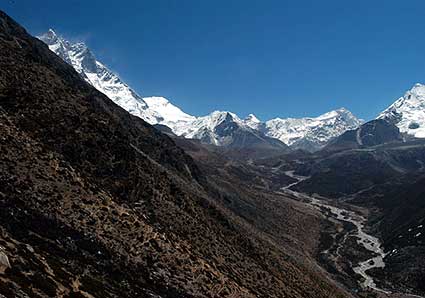 Later that day:
We have already come out for an acclimatization hike today. This is our second day in Pheriche where we are up at 14,200 feet or about 4300 meters. Just a gorgeous day here, we can see our next objective, Lobuche very clearly from where we are. Everyone is doing very well after we all had a good night sleep and we are really enjoying our stay here.
I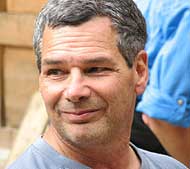 t's just absolutely incredible from where we stand. We can see so many peaks and a lot of famous peaks as well. We can see as I mentioned Lobuche, Cho Oyu, Tawache, Lhotse, Makalu, Island Peak which many of our Berg Adventures' climbers have been to before. We can see our climb, Ama Dablam, from a slightly different perspective then we are used to and many other peaks we can see from this area, it's just an incredible view and a great day to be out in Nepal.
People are eating well, Peter is eating a lot of pancakes and George is putting up with our Canadian maple syrup. He swears that Vermont maple syrup is the best and we continue to debate that but none the less we have been enjoying all the food we've been having here. Tomorrow we will get ready to head to our base camp at Lobuche and we will call from there.