November 7, 2006 – Mani Rimdu Festival in Full Swing

Listen to Audio of John's Call (.wav)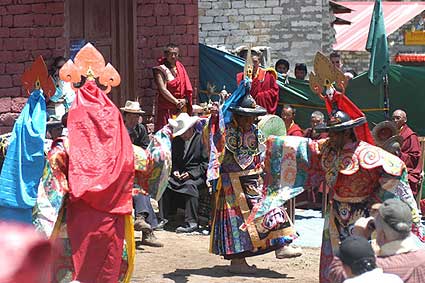 Hi, it's November 7th and this is John calling from Pangboche where we are at 4000 meters (13,124 feet) now. Over the last two days the team has been treated to wonderful views of Ama Dablam. Most of the southwest ridge has been visible to us and we are even able to pick out tents at Camp III high on the mountain through binoculars.
Following our usual trekking day we started out just after breakfast and we again passed through the town of Khumjung and we took the trail down into the Imja Kola valley before climbing back up for nearly 2 hours. We had about 1000 meters (3,300 feet) of elevation change down into the valley and back up which is quite a bit. The team did very well using good pacing and taking breaks when needed.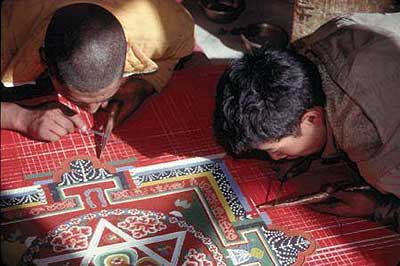 We reached the top of the ridge at the Tangboche Monastery. To our good fortune the annual Mani Rimdu festival was in full swing. The main purpose of this Mani Rimdu festival is the prayers to worship Phakpha Chenrezig as a God of compassion. We were treated to monks dancing, music and wonderful elaborate costumes. The deep sound of horns was incredible and we won't soon forget this wonderful festival.
So we continued along and made our way up to Pangboche and that is where we are now. We are resting tonight with a waning moon but still very bright and you can see Ama Dablam from here. We look forward to tomorrow's clear view from the sky lounge here at Ang Temba's lodge of Ama Dablam before continuing on with our expedition.