November 4, 2006 – Off the Beaten Path to Thame

Listen to Audio of John's Call (.wav)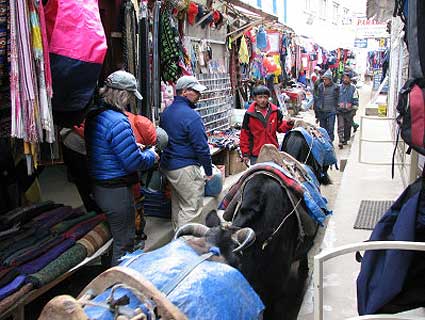 Hi it's John calling from Nepal. Today we say goodbye to Namche for awhile. It's hard to believe but some of us won't be back for almost three weeks to this village as we head up to Lobuche and Ama Dablam later in our expedition.
Today we stopped for lunch in Thamo, a nice relaxing spot before continuing on towards the village of Thame. For most of the day the peaks have been shrouded in low cloud, obscuring their view and so we have all been waiting for the clouds to clear so that we can get a view of the peaks we've come to see. So far we have not had the luck to see many, at least for today anyway.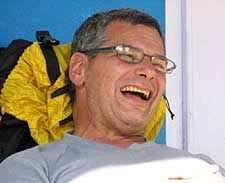 The village of Thame is a bit different from what we've seen in Nepal. The village is divided by low stone walls, making yards in front of the lodges here and people's homes. It has a much different feel from Namche. It is a lot quieter than Namche and is not on the Everest trek route so fewer travelers come to visit this area. We have come to visit a monastery which we will be doing tomorrow morning after we have breakfast.
For today [broken transmission] in the lodge here and wondering if the clouds will lift to reveal the beautiful peaks tomorrow. Everyone is in good spirits and good health. They did very well on the trail today. What more can I say they are acclimatizing well, their appetites are good and they are staying hydrated and we are all getting along very well which is very important on an expedition trip of this length. We just hope for a good day tomorrow with bright sunshine.