November 3, 2006 – Schools, Shopping and Four-legged Friends

Listen to Audio of John's Call (.wav)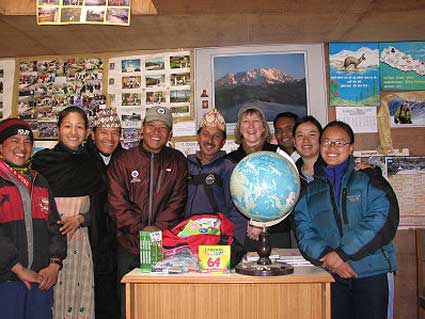 Even though today was a rest day for us as we continue to acclimatize, it was a very full day here in Namche Bazaar. After breakfast we made our way over to a local school, the Shree Himalaya Primary School. This school teaches nursery school to grade 5, the school is one of many in the village with 6 teachers instructing about 60 students.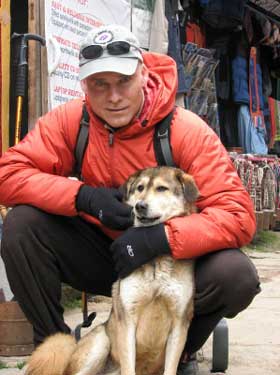 Karen who had come to Nepal before in 2001 is a pediatric nurse practitioner working in Seattle, Washington in an ER at a hospital and because she has a special place in her heart for kids, Karen made sure that she brought many school supplies. This morning it was a real joy for us all George, Peter, Min, Karen and I to watch all the kids as they were put through their morning exercises. This is something they do on Fridays, they have exercises and they don't come to school in uniform, it's a much more relaxed day for all the kids. The kids really look forward to coming to school and having a great time. It was terrific to see the appreciation from the teachers and head master as they accepted pencils, pens, crayons and glue sticks which they were especially appreciative of, and many other books that Karen had brought with her from the US and traveled with all the way here to Nepal.
In the afternoon our team walked down the hill into the village center for some shopping. Namche Bazaar has all kinds of stuff. There are many Nepalese and Tibetan items here and it is a lot of fun to poke our heads in the shops. There is a lot of mountain gear brought here and is for sale to the tourists and Sherpas that work in the Khumbu region.
Beyond shopping there are colorful characters to watch, Tibetan traders and other climbers, cows, dzokyoes and dogs. Peter did his best impression of Dr. Dolittle today, our New Yorker has a real soft spot for animals and he made some friends today of the four legged kind. We all had another great day here in Nepal.