Berg Adventures International
Northern Tanzania Wildlife Safari
March 2006
Welcome to coverage of the Berg Adventures International Wildlife Safari Expedition. Over the next few days, we'll be bringing you coverage as we visit some of the wildest places on earth in search of exotic game sanctuaries. We hope you will join us for this unforgettable adventure in northern Tanzania.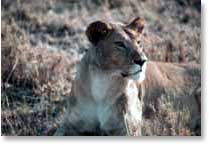 On Safari:
Carol Benton
David Baronfeld
Safari Guide:
David
Latest News and Daily Safari Dispatches:
July 5, 2006 – Last Days on Safari

July 2, 2006 – Panoramic View of the Crater
July 1, 2006 – Beautiful Views Above the Crater
June 30, 2006 – David and Carol See Hundreds of Animals
June 29, 2006 – Carol and David's First Day on Safari
If you've enjoyed following this Berg Adventures cybercast, please be sure to tune in for our next adventure. All our climbs and expeditions are cybercast live. Or better yet, give us a call to personally join us on our next great adventure!