The Berg Adventures International
Kilimanjaro Lemosho Route & Safari: December 14, 2007 - January 1, 2008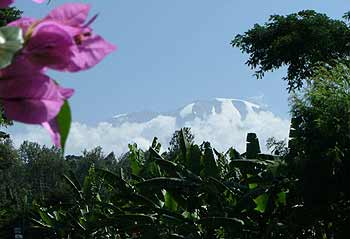 Welcome to Berg Adventures International Kilimanjaro Lemosho Expedition. In the upcoming days, we'll be bringing you continuous coverage as we attempt to reach the summit of Mt. Kilimanjaro, the highest point on the African continent.
Upon completion of the climb, our guides will lead our adventurers on an unforgettable safari to experience the wildlife and culture of Northern Tanzania. Join us on this journey of discovery.
Climbers and Safari Members:
William Cooper
Jo Ann Lippert
Ray Pike
Valerie Pike
Megan Pike
Latest News and Daily Dispatches:
December 28, 2007 – Happy 60th Birthday Ray!

December 28, 2007 – Visit to Masai Village

December 27, 2007 – Into the Mud
December 19, 2007 – Hunting wih the Hadzabe Tribe
December 18, 2007 – Crawling Through Old Caves
---
If you've enjoyed following this Berg Adventures cybercast, please be sure to tune in for our next cybercast. Or better yet, contact us to let Berg Adventures help you with plans for your own great adventure!
All Text, Images and Audio Files © Berg Adventures International 2007