The Berg Adventures International
Kilimanjaro Lemosho Route Expedition June 15 - July 3, 2007: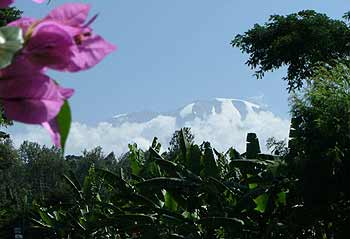 Welcome to coverage of the Berg Adventures International Kilimanjaro July 2007 Lemosho Expedition. Over the next few days, we'll be bringing you continuous coverage as we attempt to reach the summit of Mt. Kilimanjaro, the highest point on the African continent. We hope you'll join us on this adventure of discovery.
Guides:
Climbers and Safari Members:
Elizabeth Angell
Jackie Berger
Dennis Comfort
Frank Francese
Caroline Martin
Charles Martin
Rebecca Martin
Steve Nipper
Susan Nipper
Deke Owens
Latest News and Daily Dispatches:
July 4, 2007 – Our Final Two Days of Safari Were Idyllic

June 30, 2007 – Dennis Finally uses his Tripod for Ngorongoro Sunset
June 29, 2007 – Doc Martin Group
June 28, 2007 – Sleeping at Migration Camp with Real Hippopotamus Around Us!
June 27, 2007 – It's a Hippo!
June 25, 2007 – At the Top of the Forest
June 24, 2007 – Summit of Kilimanjaro on a Very Perfect Day
June 23, 2007 – Surprise Birthdat Party at 16,000 ft.
June 22, 2007 – On Top of the Barranco Wall
June 21, 2007 – Greeting Cards at 15,000 ft and a secret "55" Joke
June 20, 2007 – North Carolina Fishing Stories at 13,600 ft.
June 19, 2007 – Lots of Monkey Business and Giggling from the Girl's Tent!
June 18, 2007 – Visiting the School and Starting the Climb
June 17, 2007 – Should We Go To the Waterfall?
June 15, 2007 – Dr. Charles Martin Returns to Tanzania
---
If you've enjoyed following this Berg Adventures cybercast, please be sure to tune in for our next cybercast. Or better yet, contact us to let Berg Adventures help you with plans for your own great adventure!
All Text, Images and Audio Files © Berg Adventures International 2007