June 17, 2006 - Walking on the Moon in Bolivia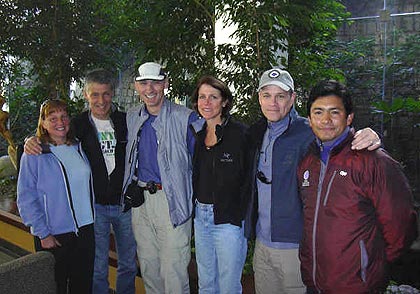 This is John [Freeman] calling from La Paz, June 17 at approximately 12,000 ft (3650 m). Our day started early here in La Paz. After 24 hours of travel all the way from Marseille, France Veronique and Philippe arrived at our hotel with bright smiles, ready for adventure and that was at midnight.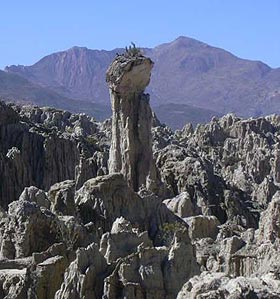 As scheduled Alex and Julie came to the Europa hotel at 6:00am this morning and surprisingly ahead of schedule so did Opus Veres, which some of you may recognize his name from our earlier spring trek to Everest Base Camp this year. Opus arrived here in Bolivia looking healthy and nearly acclimatized. For unknown reasons his flight that was scheduled to stop over in Santa Cruz missed it's exit and went straight through to La Paz, coincidently at the same time as Alex and Julie arrived. So all three of them were picked up this morning at the airport and brought to our hotel.
Today Juan Carlos took us on a wonderful day tour. Some of you who may be following this trip that came to La Paz last year will remember Juan Carlos who is so proud of his country and its history. He took us to Valle de la Luna (Valley of the Moon) this morning as one of our first stops where the landscape it very much like a moon as it's name suggests. If you have ever been to Alberta, Canada it would remind you of the badlands there, a very stark and surreal landscape.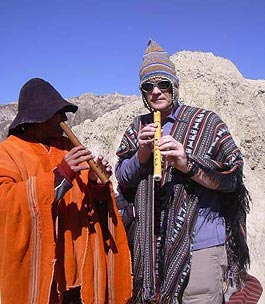 While we were on our walk we were serenaded by a local musician who played the classic plaso de condor. Our team are certainly enjoying themselves here, we have wonderful weather, very sunny which is typical this time of year with warm temperatures around 20C.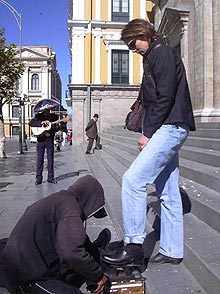 From here we continued on through La Paz to a high point on the edge of the city to view Illimani.
At the city's central square Julie who is already becoming very comfortable in La Paz and as you will see as our trip continues our group are very experienced travelers, she was already getting her shoes shined while the rest of the team was taking in some livelier sights here in La Paz.
Tonight we will have dinner together as the group continues to get acquainted with each other. Already they are sharing stories from past trips and their hopes for this trip; in fact they have all been on Berg Adventures trips before. For tomorrow Jerri and Steve arrive early in the morning and we will have our team meeting earlier in the day, perhaps visit the witch's market which is always a favorite for those looking to shop for souvenirs and to see the vibrant colors and life of La Paz.