The Berg Adventures International
Kilimanjaro 2007 Lemosho IP Expedition: Septmeber 18 - October 4, 2007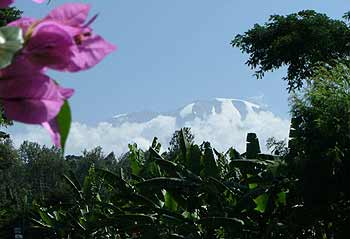 Welcome to Berg Adventures International Kilimanjaro Lemosho Expedition. In the upcoming days, we'll be bringing you continuous coverage as we attempt to reach the summit of Mt. Kilimanjaro, the highest point on the African continent.
Upon completion of the climb, our guides will lead our adventurers on an unforgettable safari to experience the wildlife and culture of Northern Tanzania. Join us on this journey of discovery.
Climbers:
Vaughan Barlow – Australia
Paul Blanchard – Canada
Janet Bradley – Canada / safari member
Anna Carboni – United Kingdom
Marius Carboni – United Kingdom
Nancy Lee Carter – USA
Andy (James) Coombs – USA
Annette Freeman – Australia
John Hackett – New Zealand
Mike Holihan – USA
Linda Harland – United Kingdom
Alan Kasper – USA
Susan Kasper – USA / safari member
David Keltie – United Kingdom
Vera Moll – Germany
Carlos Nogueira – Brazil
Catherine Nursaw – United Kingdom
Paul Previde – USA
Katie Robinson – New Zealand
Kenneth Ross – Canada
Jim Slattery – USA
Alex Zuazo – Spain
Latest News and Daily Dispatches:
September 29, 2007 – Weary Legs and Soaring Spirits at Mweka

September 28, 2007 – Summit Memories
September 27, 2007 – Last Night Camping on Kilimanjaro
September 26, 2007 – Total Success on Kilimanjaro
September 25, 2007 – One Foot in Front of the Other
September 23, 2007 – See no Evil, Hear no Evil, Speak no Evil
September 22, 2007 – First Glimpse of Kilimanjaro over the Clouds
September 21, 2007 – A BAI Welcome at the Trailhead
September 20, 2007 – IP Trek Group Representing 8 Countries
---
If you've enjoyed following this Berg Adventures cybercast, please be sure to tune in for our next cybercast. Or better yet, contact us to let Berg Adventures help you with plans for your own great adventure!
All Text, Images and Audio Files © Berg Adventures International 2007