June 29, 2006 - Sleeping at High Camp Tonight

Listen to Audio of John's Call (.wav)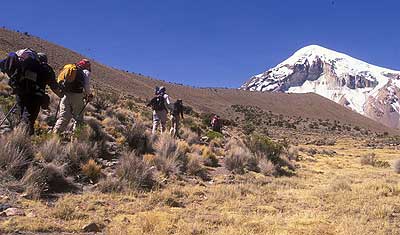 Hi there, it's John calling from high camp on Sajama. We are at 5034 meters or 18,150 feet here at high camp. The team woke up with the sun today which has become the custom for a lot of our time here in Bolivia, a nice way to get around. We had a good breakfast and left our base camp at about 11:00am and approximately 5 hours later we have all arrived here at high camp. That includes Alex, Julie, Steve, Jerri, Philippe and Opus.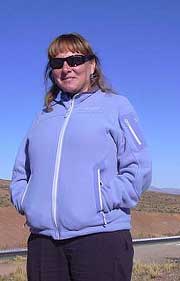 Philippe's wife Veronique actually has not been climbing on this trip, it was not her intention to climb. She has been hiking during the trip and enjoying that immensely with Juan Carlos and Charlie, both of whom speak fluent French which has been a real treat for both to practice their French and for her to see some of the Bolivian countryside. She came up most of the way with us today until we got onto some hard snow at which point they returned back to base camp. They will follow our progress on the radio.
Our Bolivian guides Juancho and Oswaldo are here with us as well and as I speak they are ahead of us fixing ropes higher on the route that we'll use early in our day tomorrow. We have Pedro and Charlie as well who are going to be feeding us. And that's our job right now here at high camp, our tents are set on quite a narrow outcropping of rock with wonderful views and the weather I must say has been very cooperative today. The winds which can be a problem here on Sajama are here but they are not strong, so the winds are gentle and like what you would find in almost any alpine environment. The skies are very clear, crystal clear in fact and just an amazing color of blue against the crisp, clear, white penitentes that are speckling the landscape here.
So that's all from Sajama high camp, time for me to go and get some food and liquid into me. Tomorrow is a big day, we'll be leaving camp at approximately 3:00am and we'll be on the move all day either up or down after the summit and the plan is to have a good day tomorrow. We'll call in tomorrow and let you know how we are doing.