November 19, 2006 – Exploring Ama Dablam

Listen to Audio of John's Call (.wav)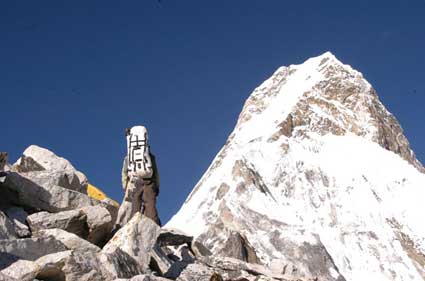 Hi everybody, it's John calling from Camp I. You might be a little surprised that I am calling from here but we have had quite a day actually, we've been on the move for 8 hours. Peter, Pasang, Dasona and I got up with the sun and left camp and headed for Camp II. We moved very well together all day long. Unfortunately Dasona was suffering from some stomach problems about half way through and returned to camp, which now we are appreciating very much as he is brewing us some orange tea.
On Ama Dablam this year, the Dablam, a hanging glacier which is known to be very stable and is located just above Camp III, this year for the first time in approximately 40 years or certainly since any locals can remember from Pangboche, the Dablam has shifted and a great deal of material released earlier in the week before us coming up here. So with that in mind our plan today was to explore the mountain, learn the route and be very safe. There has been some activity with the Dablam since it's initial release and there is a great deal of avalanche debris on a ledge that has been used in the past for Camp III.
So for today we played it safe and we had a great day, wonderful weather and we are all safe back here at Camp I. Peter has amazed the Sherpas with his fitness so our plan is to descend under power of headlamp to Base Camp this evening. The terrain is quite straight forward so we should be back there in about 3 hours, possibly 4 hours and we'll be treated to a wonderful and well-deserved dinner.