October 31, 2006 – Namaste from Kathmandu

Listen to Audio of John's Call (.wav)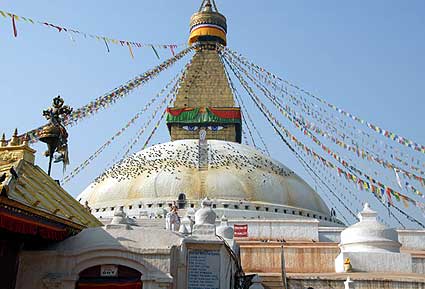 Namaste from Kathmandu, Nepal. This is John Freeman calling for the first time on Berg Adventures Ama Dablam and Lobuche 2006 expedition. Our whole team is here now in Nepal. Karen Kilian, George Carabetta and Peter Amantia make up our team of climbers this year.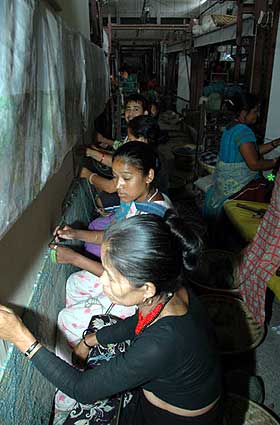 Today we shared breakfast with Wally, Leila and Dave Hahn who were all leaving Nepal today after a very successful Everest expedition. After breakfast our city tour began with our guide Hariom. He showed us three very interesting and beautiful religious sites, one Hindu site and two Buddha Stupas including Bodhanath which is one of the 7 world heritage sites here in Nepal. We shared these holy places with many other travelers and worshipers from all across the world. It's no wonder that these are draws for people who come to Nepal and travel great distances to see these places.
Later on after a wonderful buffet lunch at the Hyatt we met a long time friend of Wally's, Tsering Dokar. Tsering is Tibetan-Nepali and her family is very successful here in Nepal with two hotels and a very busy carpet factory. Tsering was kind enough to take time from her busy day to give us all a tour of her family's factory where more than 400 employees handcraft beautiful Tibetan rugs and carpets. I know our whole team was amazed by the skill and care taken in producing these beautiful rugs which are sold all around the world. It was quite incredible for us to learn some of the destinations that these carpets go to, the Middle East, London and New York. They become highly sought after and treasures for many people.
As I mentioned it is just incredible care that goes into these carpets and that care is only second to the care that Tsering's family shows to their employees providing housing, daycare and schooling for their families and their children.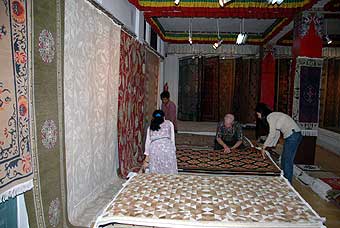 So it was a busy first day of our expedition in Nepal, in this wonderful country. We are all excited for what is to come and we hope that you will enjoy our trip too.